2017 Creative Loafing Restaurant Week & Élevage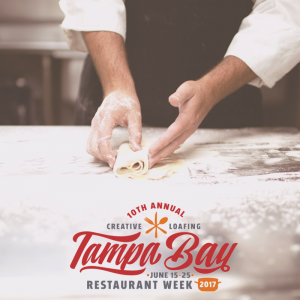 Join us at Élevage for the coveted, 10thannual Creative Loafing Restaurant Week. Every year Creative Loafing produces a much sought after Food Issue (available June 15th) which crowns the top dishes and restaurants that Tampa has to offer.
For 10 days, the best local restaurants that call Tampa Bay home come together to share their culinary creations with foodies and Tampanians alike. Dine on a delectable, three- course prix fixe menu for just $45 at Élevage. Take advantage while you can, as this mouthwatering menu is only available from June 15th to June 25th.
Your wallet and stomach will thank you later.
First Course:
Start out with the soul-warming Loaded Potato Vichyssoise. This thick, hearty soup originated in France is sure to be a new favorite. Sprinkled with cheddar, sour cream, bacon and scallion oil. You had me at bacon. Or kick off with the sweet, savory and spicy Maryland Crab Roll. This summertime favorite comes stuffed with fresh crab, seasoned with Old Bay on a soft, sweet roll and is accompanied by spicy slaw.
Second Course:
Indulge in Salmon Grenoblaise, a fresh piece of salmon covered in grenoblaise. This sauce is named after a region in France and is a concoction of browned butter, capers parsley and lemon with a side of cauliflower, haricot vert, almonds, capers and brown butter. Or choose the savory and tender BBQ Short Rib with southern, hearty sides of cheese grits, pickled okra and crispy shallots.
Third Course:
Lastly, but certainly not least you have the choice of Brettzy's Flan garnished by fresh vanilla, juicy macerated berries, lime and mint or an Artisanal Cheese Plate with sweet and sticky garnishes.
We will leave the tough choices to you.  Make a reservation here.