Epic Art Show: The Hands Behind the Art
Join us for an epic night at round three of our Epic Art Show on Saturday, November 14! Where all four of Epicurean's founding pillars – Food, Wine, Art and Culture – combine! Sip on a complimentary glass of wine and take a gander at artwork from local Tampa Artists on the Garden Terrace. All pieces are also up for sale so you can take your favorite home. Get your tickets here, limited spots available!
To get ready for the big event, get to know the 10 artists that will be featured. They're all insanely talented Tampa locals and we're so excited to showcase some local work.
Meet Jonathan M James: @jonathanmjames on IG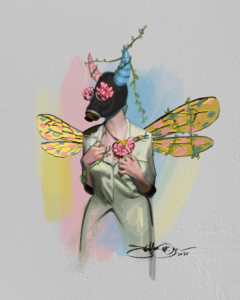 "My main focus is to make as much art as possible before I die.
I used to think I needed a style, or a purpose, that I needed a medium I stuck to and performed great feats of craftsmanship; but these days I'm just in it to make stuff. It's a compulsion, and I think that compulsion exists in all of us – I'm just privileged enough to have the time and support to follow this path.
Professionally I am a fine art painter, and illustrator creating portraits, random commissions, and children's books. Thematically drawn to slightly weird, grotesque, and whimsical elements that I undermine the seriousness of the content I create; but… it's probably the unfinished quality of my work that I would say is the intentional mission of it all.
I believe we are all a work in progress, a WIP! and for me that is a wonderful concept to investigate and develop in our current society alongside art. Especially considering current call outs, growth, glow ups, and just what it means to mess up, and do better next time. What's important is cultivating an environment of patience with each other. With myself. Allowing myself to become, allowing the work to become, what it can – instead of just what I think it should be."

Meet Trent Alyse: @kittybombcurios on IG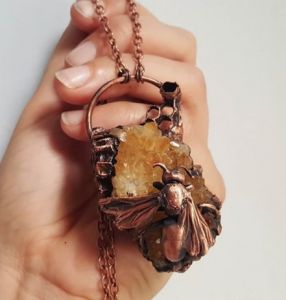 Trent Alyse is a Tampa-based artist working with taxidermy, stones, and copper electroforming.
In high school she was heavily influenced by the surrealist paintings of Rene Magritte, and his thoughtful juxtaposition of seemingly incongruous objects. She graduated from FSU in 2011 with a Bachelor's Degree in Studio Art, focusing on sculpture.
She began collecting found animal bones as a teenager, which slowly morphed into creating complex, one-of-a-kind jewelry pieces that feature found animal bones, insects, and stones. Her passion for giving creatures a second life extends into the rehabilitation of antique taxidermy pieces – she collects old and broken pieces and transforms them into enchanting crystallized works.
Trent's work has been featured in Venom Magazine and sold at Dysfunctional Grace Art Co, as well as many local markets and online via Etsy.
Meet Langstn: @Lang.stn on IG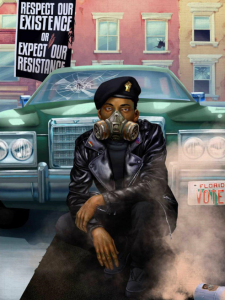 "As an artist, my work exists to spread a message of power, perseverance, and pride. I take the viewer along with me on a journey through my heritage while navigating today's modern social landscape.
Cultural touchstones from West Africa embrace our nation and the global fight for activism without fear. A significant component of that message is in support of love and beauty.
Representing the African American community is essential for my works. Social commentary and the tumultuous times shaping our lives shine through my work, which I embrace. I also include my own experience and artist influences from the cyberpunk, street fashion, and anime genres.
That collision results in an attuned and precise message, which reflects my personality.
My formal exhibiting career started in May of 2018, where my work was first presented at galleries. Prior to that, my artwork was reserved for social media. That primed me for channeling my creativity into pieces that would emotively and empathetically engage with modern viewers in a general setting.
Bringing that energy into the fine art realm gives me the opportunity to leverage that engagement, shaping it to a more refined and authoritative audience.
As I continue to find my place as an artist within our existing paradigm, I am biased towards minority outreach in society, with a pension toward supporting other young artists— giving a voice to the unheard."

Meet Carrie Kilgore: @carriekilgoreart on IG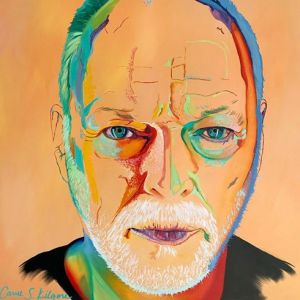 Carrie Kilgore is a visual artist based in St. Pete, FL. She specializes in creating realistic oil portrait paintings that capture the essence of an individual, and they are visually rich in color.
Meet: Justin Israel Sanchez: @mr_badass_art on IG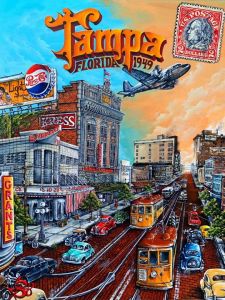 "Hey, I'm Justin I am a 21 year old artist and a Tampa native. I have always had a passion for art ever since I was young. While attending Jesuit High School' s highly acclaimed Fine Arts Program. I explored new art mediums and acquired a variety of new techniques. Will currently working towards a Bachelors of Science in Business with a focus on Entrepreneurship I have fine tuned my skills and enjoy teaching and sharing my talents with others. I have done two paintings on public dispaly for for the Heights Public Market at the Armature Works and for the Ulele Restaurant. I have actively been working in my community on murals and public art displays focusing on child enrichment and introduction to art at an early age. I draw my main inspiration from Our City's long and fascinating history. I find the beauty in old black and white photos of the brick city streets of Tampa & Ybor City and seek to capture that charm in my paintings."
Meet John Hall: @artbandit85 on IG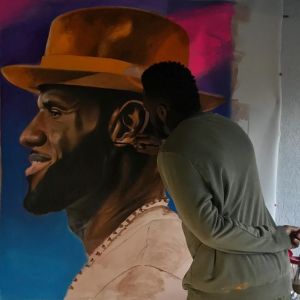 Tampa Bay-based artists John Hall, aka Art Bandit, has been on a mission to create and inspire since 1996.
Drawn to art, through his love for wrestling (witnessed a painting used as a prop weapon in an epic matchup), John knew from a very young age he wanted to be an artist. But after being told artists couldn't earn a decent living, he gave up on art school for the traditional academic path. As a kid, John dreamed his favorite wrestler would one day own his work. Once this dream became a reality, he realized he had made a mistake and that anything was possible. From this point on, the goal was to incite this same level of confidence in other artists.
Although setbacks caused him to miss an opportunity to formally develop his skills in a prestigious high school arts program, John's commitment to becoming an artist overcame every obstacle. He has worked relentlessly over the years to perfect his craft. And while he did manage to earn a B.F.A in graphic design, his untutored approach has proven to be a blessing in disguise.
Combining a refined graphic design background with the rawness of a self-taught portrait artist, the Art Bandit is sure to steal the show. His ability to capture the likeness, emotion, and personality of the subject distinguishes him as an artist. They say beauty is in the details, and John relishes the tedious process of bringing his art to life one brushstroke at a time.
Today, tens of thousands of fans follow John's art. His paintings have been owned and embraced by Rihanna, Mike Tyson, Rick Ross, Triple H, Swizz Beatz, just to name a few. John has accomplished amazing things with his art. And while there is still so much more in store, he is most grateful for the opportunity to encourage artists to Dream. Create. Inspire.
Meet Damien Stuck: @artby_stuck on IG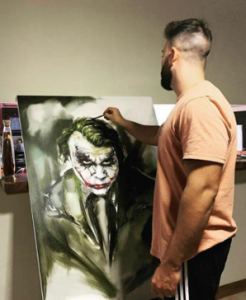 "I study philosophy, psychology, and the fundamentals of the Arts. I specialize in Oil paints and love painting the things we fear, the horror, the tragedies and what we can overcome and endure."
Meet Meclina Priestly: @meclinaart on IG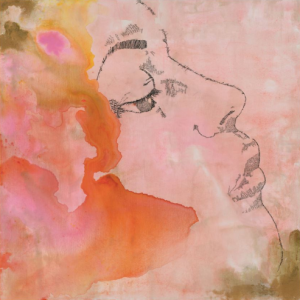 During the 6th Century Artisans crafted imagery and architectural elements comprised of lettering. This use of typography and calligraphy became the focal point of the design. Meclina discovered this form of art that speaks to her soul. It allows her to create works of art using words in a contemporary fashion.
Her oversized canvases house six feet portraits telling the story of the person. Some of her painting of gowns are woven words for social empowerment and self-acceptance. When you pass by one of her trees you will feel the warm embrace of encouragement as the imagery pulls you in the words jump off the canvas as a reminder of your own inner reflection and self-love. It is her intent to use art as a healing modality and a vehicle to engage interaction and conversations.
Meclina's work is in private collections, Celebrity homes, Hotels and on Production locations. Her intricate work of hand lettering and use of Abstract expressionism creates a vibrate landscape of work.
Meet Emilio Valdes Espinosa: @emiliovaldesespinosa on IG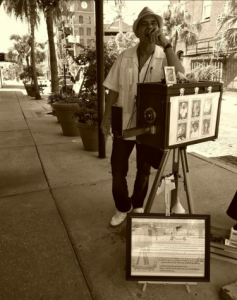 Born in Havana Cuba, 1959
Emilio was born in Havana, Cuba. He holds a postgraduate in Press Photography from the José Martí International Institute of Journalism. He worked as a Professor of Photographic Technique in Cuba and Colombia for several decades and also served as the head of photography.
Emilio's work has been featured in dozens of personal and collective exhibitions throughout the years and he has won several awards for his work.
_____________________________________________________________________________________________
We can't wait to see you on November 14th! Your safety is our priority. In addition to the mask requirement indoors, we are offering tickets for one hour viewings to provide optimal social distancing during the show. Hang out with us for a little longer with reservations at Élevage SoHo Kitchen & Bar before or after your viewing. Or join us up at EDGE Rooftop Cocktail Lounge.