A Fresh Look at Vodka & Vodka Based Cocktails with Tony Abou-Ganim
Ever wonder which vodka works best in a Bloody Mary, Cosmopolitan, Harvey Wallbanger or simply straight up with a twist of lemon?
This Thursday, June 4 the Epicurean Theatre presents "A Fresh Look at Vodka & Vodka Based Cocktails" with Tony Abou-Ganim, author of Vodka Distilled.  Known as the Modern Mixologist, Tony is a true pioneer who has been teaching bar professionals all over the world making him a leading professional in the beverage industry.  You may know him from the dozens of national TV appearances on shows including, TODAY, Iron Chef America, Good Morning America, CNBC, Fox News and more.  Whether you are a professional or an amateur, you'll walk out with a better understanding and an interesting perspective about America's most consumed spirit, vodka.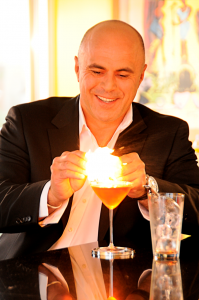 In this entertaining cocktail class, you'll discover the subtle nuances that distinguish a rye based vodka from one distilled from corn as well as how vodka is made from potatoes is different from those produced from grain or grape. 
Tickets are $45 per person and include handcrafted cocktails and food pairings from the Élevage kitchen.  Tickets are still available and can be purchased in advance by visiting: www.EpicureanTheatre.com  or at the Epicurean Theatre door the night of.
Give your Thursday an unexpected twist and Awaken Appetites Unknown at the Epicurean Theatre, located inside the Epicurean Hotel.