All The Details From My "Yoga With A Twist" Journey!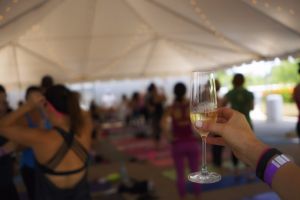 What happened when I combined one of my favorite things (wine!) with something I was unsure about (yoga)? It ended up being the perfect pairing! Let me indulge you with all the details …
Yoga with a Twist, happens every last Sunday of the month at the Epicurean Hotel on their second-floor garden terrace. The class welcomes all yogi levels — which includes me! I've only been to a few yoga classes ever, and consider myself a total beginner.  But I did bring one of my pals Katina, who's an all-star fitness pro, so we could get two different perspectives for the Yogi blog readers.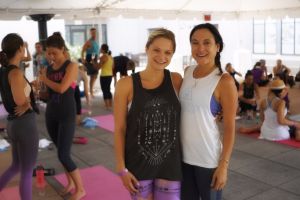 Yoga with a Twist is hosted by Megan Blizard of Kodawari Studios, and all-around beautiful (and fit) soul who radiates peace, patience within a hundred-yard radius. She believes in practicing yoga for the benefits both on and off the mat: gratitude, self-love, patience, self-awareness, presence, empowerment and peace.
For me, I thought it was one of the easiest to understand classes as a yoga beginner. Megan was so clear with every explanation and she also had help from others, who walked around and adjusted your body if you were off in any way. She warmed everyone up with a nice Florida-sun flow and had modifications for all Yogi levels. My friend, the fitness pro, thought the class was excellent, and one of her favorites! She enjoyed trying more advanced moves, and she continued to sweat the entire class. We both agreed to come back next month, and bring more friends to share our natural state of happiness we felt and the magical feeling of a balanced mind and body.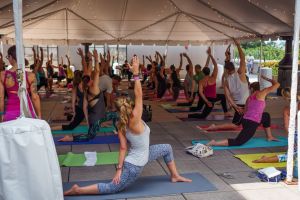 For those worried about the heat, I won't lie; it's hot. But, it is under a large tent, which helps keep you cooler in the shade. At the end of the class they also blast fancy Portacool fans over the entire class, so you cool off quickly. The team also places cold towels with fragrant oils from Spa Evangeline. I believe our scent was a lemongrass — and it was delightful!
How could I forget the most important part … the wine! The "Class and a Glass" ticket comes with one drink ticket to claim your glass of wine. We opted for a crisp and chilled champagne, which was the perfect twist and reward for committing to an hour of outdoor zen.
So, what's the cost?
Yoga with a Twist is $15 for the class or $20 for the class and a glass (includes one drink ticket).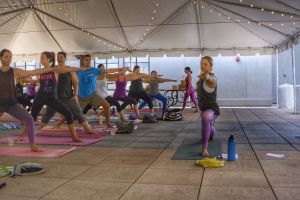 My Tips:
This is a VERY popular class each month, so I encourage you to book your mat spots early. Any remaining spots can be purchased with cash day-of, prior to the class.
They call it "Yoga with a Twist" for a reason. You'll be twisting your body, turning it upside down and bending it forward quite a bit, so don't eat a full meal at least two hours before class. An emptier stomach leads to a more enjoyable practice. Be sure to drink 1–2 liters of water so you're fully hydrated.
Plan to arrive early to give the team enough time to check in with your ID, yoga mat, water and towel.
Yogis, don't forget to Awaken Appetites Unknown after class with 10% off Élevage Brunch menu items (brunch reservations are highly encouraged). Other perks include: Special happy hour drink offerings and 15% off treatments at Spa Evangeline.
Oh! And for every yogi in attendance, Conscious Coconut will give a child a meal through Feeding Tampa Bay; the largest hunger relief organization in the community, serving a food-insecure population of more than 700,000 people in a 10-county area. 
Be one of the first five Yogis to arrive, and you'll get a FREE tube of Conscious Coconutoil!
Hope to see you on the mat Sunday, July 31, from 10 to 11 a.m. Namaste, ya'll!