BASK Art Opening Reception – TONIGHT!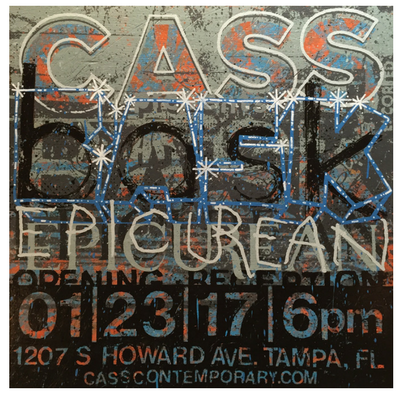 Tonight from  6-8 pm the Epicurean Hotel and CASS Contemporary welcome BASK, the fifth featured artist to our rotating satellite gallery.
If you haven't had a chance to check out our gallery in the Epicurean's library lounge, it's a must-see, must-experience in a unique venue. While this is the fifth featured artist, the origins of our gallery started when CASS Contemporary and Epicurean Hotel both recognized the need to find an additional venue for guests and members of the community to view and appreciate art.
For each artist that we welcome into our rotating satellite gallery, we also host an opening reception. Partnered with CASS Contemporary, we bring together the artist and guests, so guests have the opportunity to view the art, exclusively before anyone else. Guests are also able to sip on Chateau Ste. Michelle wine, beer and hors d'oeuvres while participating in an intimate Q&A with the artist, and enjoy a live art demonstration.
This gallery artist, BASK is known for his richly textural works that imbue his "anti-iconic" and sometimes satirical worldview, with an undercurrent of dark emotion. BASK is the moniker of Ales "Bask" Hostomsky who, with his parents, emigrated from Czechoslovakia to Florida. Currently based out of St. Petersburg, Florida, BASK combines his graphic skill and his trademark multi-layered applications, often building up the surface while breaking down the image itself. His work is absolutely incredible. So incredible, that he landed the coolest commission ever — artwork for Iron Man 3 and an endorsement from the ever-so handsome Robert Downey, Jr. You may have also seen other mural work around Hyde Park Village and St. Petersburg.
Want to meet BASK at our Art Opening Reception, and enjoy a live demonstration with an intimate Q&A tonight? Tickets are $25 and will be applied to any purchase made during the event. To purchase your tickets visit the Epicurean Theatre website here.