Blueberry Recipe Trio from Élevage
Have you seen the newest menus inside Epicurean Hotel's signature restaurant, Élevage?
 In honor of Florida Blueberry Month, Chef Chad and the Élevage team have created a few new additions to feature fresh Florida blueberries from our partners at 
Wish Farms
.
Executive Chef Chad Johnson has shared three blueberry recipes to include: Savory Blueberry Chutney, Sour Blueberry Jam and Blueberry Crème Brûlée.
The Savory Blueberry Chutney is the perfect addition to use with chicken or pork and Chef Chad and his team use this chutney to garnish the Tandoori Boar Chops at Élevage. The Sour Blueberry Jam can be enjoyed on a fresh biscuit or a slice of toast and is currently used to garnish the Swedish Meatballs. The Blueberry Crème Brûlée needs no introduction; it's a must-have, must-experience dessert when dining inside Élevage during the month of April.
Are you ready to Awaken Appetites Unknown inside your kitchen?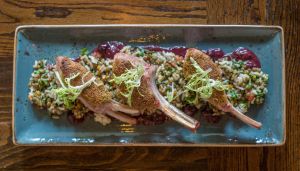 Savory Blueberry Chutney
2 red onions, minced
1 finger ginger, minced
3 tbsp garlic, minced
1 tsp turmeric
1 tbsp curry powder
1 tsp sumac
1 tsp Turkish pepper
1 qt orange juice
7 pints blueberries
1 cup sherry vinegar
1 cup red wine vinegar
2 cups sugar
Sweat onions, ginger and garlic with the spices. Once translucent, add the orange juice and bring everything to a boil. Add in your blueberries and cook until the berries start to burst. While the berries are cooking, make a gastrique by bringing the vinegars and the sugar to a boil in a separate pot. Combine the two pots and reduce the chutney until viscous.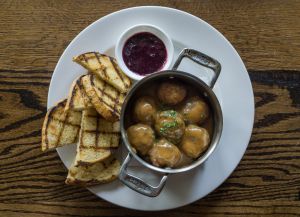 Sour Blueberry Jam
3 pints blueberries
1 cup water
2 tbsp sugar
½ tsp ground allspice
1/8 tsp salt
Sachet of: ½ tbsp juniper berries, ½ tbsp pink peppercorns, ½ tbsp black peppercorns, 1 bay leaf
¼ cup red wine vinegar
2 sheets gelatin
Bring all ingredients except vinegar up to a simmer. Cook the blueberries until they start to burst. Add vinegar and check seasoning. Bloom two sheets of gelatin and then add to the jam.
Bring back to a boil, remove sachet, then cool jam down.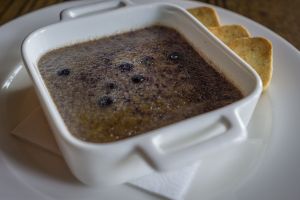 Blueberry Crème Brûlée
4 cups blueberry puree, strained
4 cups cream
12 sheets gelatin, bloomed in ice water
2 cups sugar
24 egg yolks
Bring cream up to a simmer and dissolve gelatin in it. Add blueberry puree. Whisk together egg yolks and sugar until sugar is dissolved. Slowly whisk in the warm liquid.
Pour into ceramic crocks, drop 5-6 blueberries into each crock mix and bake in a shallow water bath at 325F until set. Approximately 15-20 minutes. Let cool thoroughly before serving.
When ready to eat, dust with sugar and broil or blowtorch to caramelize.