Book Your Holiday Party
It's officially the most wonderful time of the year. Holiday party season is upon us and we at the Epicurean Hotel have a plethora of venues to suite your party wants and needs. Our culinary chops will wow the crowd and leave party goers yearning for next year's gathering.  Located in South Tampa, the proximity of our trendy boutique hotel to historic Hyde Park Village is an added bonus! Choose from five unique spaces within Epicurean for your special occasion.
Meritage Private Dining Room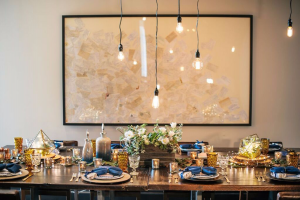 This newly renovated private dining room is located within Élevage and is perfect for small, intimate gatherings. The completely private space may be opened up with wooden accordion doors.  A large wooden table and leather chairs sit upon French tiled floors. Choose from gold, geometric or cork centerpieces for a unique touch. The Meritage Room can accommodate up to 20 attendees.
Epicurean Theatre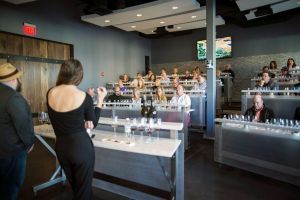 Surprise guests with a truly unique space for this year's Tampa holiday party. Epicurean's Culinary Theatre can accommodate up to 45 guests. This venue is a great option for meeting with stadium-style seating. With a full Wolf & Sub-Zero kitchen center stage, guests can watch meals be prepared right before their eyes, or compete in an Epic Chef-style cook-off.
Bern's Fine Wines & Spirits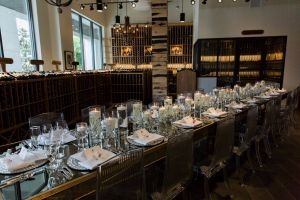 For all of the wine and spirit coinsurers, this venue is the one for you! Bern's Fine Wines & Spirits, located just off the lobby of the Epicurean, is home to some of the most coveted spirits in the world handpicked by the masterminds of Bern's Steak House. Wine and dine with backdrops of wine adorned walls. Bern's Fine Wines & Spirits can accommodate up to 50 party goers.
Grand Cru Ballroom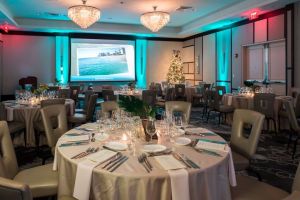 For a more formal holiday party, book the Grand Cru Ballroom. This open and spacious venue can accommodate up to 200 guests. The Grand Cru Ballroom can be broken down into two smaller spaces for more intimate gatherings. With carpeted flooring and luxurious light fixtures, it is the perfect backdrop for your holiday needs. Classroom, banquet, reception and conference style parties can be hosted in this venue.
Garden Terrace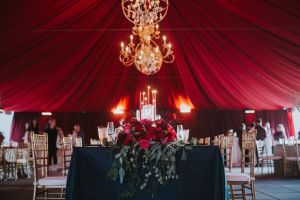 The Garden Terrace offers guests the feeling of being outdoors with the comfort of spacious tents. With delicate lighting, this blank slate can be decorated in a myriad of creative ways. This space is our most expansive venue at Epicurean and can accommodate up to 300 guests. Dance the night away alfresco on our dreamy Garden Terrace.
 Pool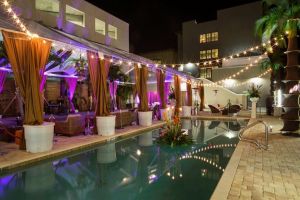 Party with poolside views this holiday season at the Epicurean pool. You and 150 of your closest friends can enjoy the crisp air and décor of your choice. Enjoy cocktails and bites while you mingle around the outdoor setting.
EDGE Social Drinkery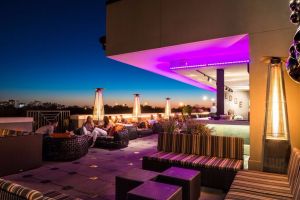 Celebrate this holiday season on EDGE with rooftop views of South Tampa. The ambiance brought on by the colorful lighting, lounge seating and downtown Tampa skyline backdrop will make this a holiday party one to remember. On the other hand, the expertly crafted cocktails may make it hard to remember. EDGE Social Drinkery can accommodate up to 80 guests.
Book your holiday party to at Epicurean today!
Call 813.999.8702 or send an email to [email protected]