Calligraphy Uncorked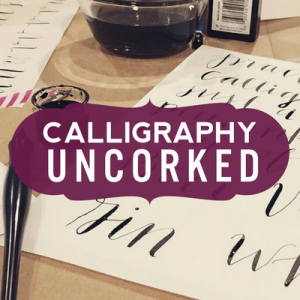 The Epicurean Theatre is excited to welcome back Janee' Scarle of Old City Calligraphy on Tuesday, April 11, from 7 to 9 p.m.
If you find yourself itching to learn how to create calligraphy but have no idea where to begin, this is precisely the course for you. During our Introduction to Modern Calligraphy for Beginners, you'll learn detailed techniques of pointed pen, get one-on-one instruction, correction of technique— and leave with all the tools you need to get started.
While calligraphy got its start with the Latin alphabet in 600 BC, modern calligraphy continues to flourish in the forms of wedding and event invitations, font design, typographic and hand-lettered logo design. Janee' Scarle is the owner and designer behind Old City Calligraphy.
I met Janee' Scarle at last year's Junior League of Tampa Holiday Gift Market, where she was awarded the Young Women's Entrepreneurship Program winner. Her homemade goods, gifts, and home décor items with custom calligraphy flew off the shelf faster than she could stock them.
The best part about this calligraphy class at the Epicurean Theatre, is everything will be ready for you when you get there. Janee' will provide a starter kit with all the tools (and secrets) you need to get started: a goody box filled with ink, a selection of nibs, various types of paper, and instructions to help guide you to create your own masterpieces after the class. We also know that your creative juices are better suited with wine, so we're including two complimentary glasses of wine provided by the Epicurean.
There's no experience necessary to participate in this small, intimate workshop. Only a few seats remain, so hurry and reserve your spot today. Tickets are $95, and can be purchased on our website here.