Cena: An Italian Experience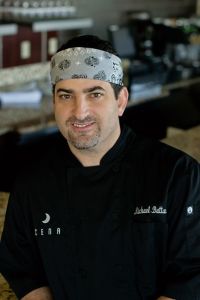 How does a night indulging in the ultimate comfort food of home-cooked Italian sound? If you're like me,Italian is my absolute favorite cuisine! It's very comforting fare, enjoyed by many and often holds top-secret family recipes passed from generations globally.
This Tuesday, September 8, from 6 p.m.–9 p.m. the Epicurean Theatre welcomes special guest, Chef Michael Buttacavoli from Cena for a mouthwatering, three-course Italian meal.
During this class, Chef Michael will demonstrate how to make a few of Cena's hottest dishes right in front of you in the Epicurean's fully Wolf and Sub-Zero equipped culinary classroom. The first course is a Shrimp and Scallop Scampi, paired with Kim Crawford Sauvignon Blanc. Second course is Pasta Amatricana, served with Sean Minor Pinot Noir and the final course is the Pork Saltimbucca, paired with Joel Gott Cabernet. All delightful, elegant and delicious choices!

Chef Michael's restaurant, Cena is a popular and modern restaurant located in the Grand Central building at the heart of the vibrant Channel District in Tampa. The word Cena, means "dinner" or "supper" in Italian, which is where the restaurant's name comes from. His restaurant dishes are best known as fresh and simple Italian foods served in a contemporary and stylish setting.
We hope you'll join us for a special night of Italian cooking and interactive entertainment. Tickets are $65 per person and can be purchased at www.EpicureanTheatre.com.