Cooking With Cru
We know a good thing when we see it (or taste it), so that is why we welcomed back Executive Chef Brad Sobo from Cru Cellars for a night of cooking and wine pairing that will leave you yearning for another glass.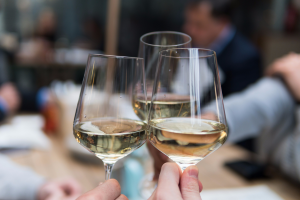 Cru Cellars in South Tampa knows a thing or two about wine, maybe that is why they were voted best wine bar for four years in a row. This wine bar and restaurant was established seven years ago by a wine-loving husband and wife duo and is located right in the heart of Palma Ceia. The onsite wine shop specializes in small-production wines with high quality that can't be found in a Publix. Wine-o's on a budget; head to Cru Cellars. This wine shrine focusses on finding wines that over-deliver for the price. Enjoy a unique glass of wine in the Cru Wine Garden while you soak up some sunshine.
While Cru Cellars has cheese platters and charcuterie to die for, Executive Chef Brad Sobo wants Tampa to get acquainted with the rest of the menu offered.  Boasting dishes like Citrus Panzanella, Smoked Brisket Sandwich and Duck Confit; the kitchen of Cru is a force to be reckoned with. Chef Brad Sobo got his start working under the direction of our very own Chef Chad Johnson at Sidebern's (now Haven).
Enjoy a night learning to make dishes that will make your friends envious and your taste buds happy while experiencing a carefully selected glass of wine paired with each dish. Join us for this mouth-watering cooking class on Friday, July 28th from 7:00pm to 9:00pm. Buy tickets here before they sell out! Check out what you will be enjoying in the Epicurean Theatre below.
Buffalo Oysters

Cornmeal Breaded Oysters, Buffalo Sauce, Goat Cheese Ranch Dressing
Keller 'Limestone' Riesling Kabinett 2015
Scallop Ceviche
Honey, Jalapeno Granita, Celery
Dagueneau 'Les Pentes' Pouilly Fume 2015
Roasted Carrots
Miso & Ginger Carrot Puree, Basil Chimichurri, Macadamia Nut
Cantine Notaio 'L'Atto' Aglianico 2014
Crab Pasta
Pistachio, Tarragon, Corn, Tomato, Trofie Pasta
Terlan Terlaner Classico 2015