Cupcakes & Cocktails: Beth's Pirate Fest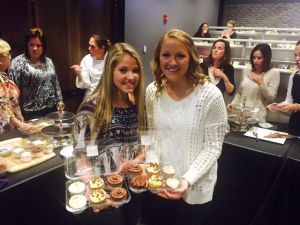 Cupcakes & Cocktails with Chef Beth of Cloud 9 Confections is back this month with a very special pirate fest! Herextremely popular class will offer three new and delicious flavors to try and the entire class will be pirate themed as a nod to Tampa's historic Gasparilla Pirate Invasion.
If you're looking for a fun and festive way to celebrate pirates with your krewe of scallywags, you've come to the right place. Here's five reasons you don't want to miss this month's Cupcakes & Cocktails Class in the Epicurean Theatre on Wednesday, January 20, from 7–9 p.m.
1. Pirate-Themed Fun: If there's one thing that Tampanians love more than anything, it's Gasparilla. Jose Gaspar invades the city of Tampa every year with his scallywag ship mates. After he steals the key to the city from the Mayor, cannons blow and the pirates takeover. Come test out what our pirate-culture is like with Dark Chocolate Rum Cupcakes topped with salted-caramel butter cream icing and a bacon crumble that will make any pirate hoist his flag and surrender!
2. Cocktails included: Peg Leg Roger will be serving up pirate-themed grog from the Élevage Bar, while you decorate your cupcakes. You'll even get to keep the recipes for these delicious hand-crafted cocktails, which will surely make you the most popular mate at the next Gasparilla party.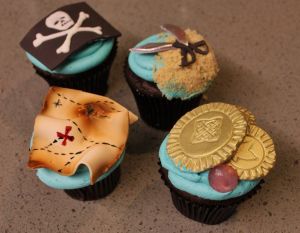 3. Cupcakes to Share With Your Krewe: At every Cupcakes & Cocktails class, you get to take home six cupcakes that are artfully decorated by you for you (or your krewe). So delightful and rich, they could be passed off as treasure or gold. And remember taste testing these delicious cupcakes during the class is highly encouraged.
4. Maps are Yours to Keep: Chef Beth always passes out the recipes for the cupcakes you make in class. They are yours to keep, so feel free to map out tips, tricks and other helpful hints along the way. And since you'll also get recipes for the cocktails featured during the class, these are very valuable treasure maps indeed!
5. Bacon: Mmmm, bacon! The treasured ingredient that makes these cupcakes not only sweet, but savory. You'll test your luck at making a bacon crumble topping for your cupcakes that includes brown sugar and pecans. If bacon isn't your thing, don't worry … there will be extra hands to make a delicious pecan crumble that tastes as good as gold.
Hurry! Tickets are $50 and can be purchased at 
www.EpicureanTheatre.com
. They sell out fast every month so be sure to sign up today … for those who miss out, you may have to walk ye plank!