Cupcakes & Cocktails Featuring Chef Beth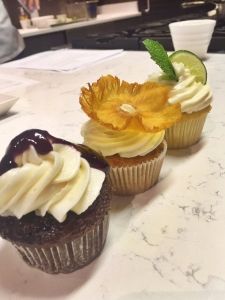 Last week I had the pleasure of joining Chef Beth, from Cloud 9 Confections for the "Cupcakes & Cocktails" class inside the Epicurean Theatre.  Heading to the class I knew it would be a unique experience, but I must be honest I wasn't sure what to expect. The class was interactive, exciting, fun and it's no wonder why her classes fill up and sell out so fast.
The class was a mix of people on date night (yes, including guys) and girlfriends celebrating girl's night. The class is for all skill levels from beginner to intermediate. I have always been great at baking, and can whip up a mean peanut butter and chocolate cake. Even I left learning new baking tips. Chef Beth kept the class both entertaining and educational.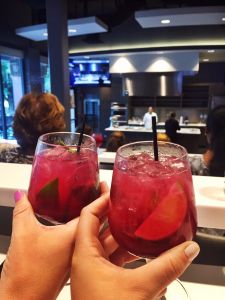 Did I mention that every cupcake was paired with a cocktail? Oh yeah! It kept the class conversational and fun. The cupcakes we made were: Mojito Cupcakes with Rum Lime Buttercream (paired with a Blueberry Mojito), Hummingbird Cupcakes with Cream Cheese Frosting and Roasted Pineapple Flowers (paired with a cocktail called A Barrel of Peaches), and Red Wine Red Velvet Cupcakes with Red Wine Cream Cheese Frosting (paired with a NY Sour). Not only did we get to walk away with six cupcakes, but we also were handed the recipes to make all the cupcakes (and cocktails) at home.
I had the chance to interview Chef Beth with Cloud 9 Confections, and here's a peek inside her world.
Kat: How and when did Cloud 9 Confections begin?
Chef Beth: My last class as a Hospitality Management major at USF was called "The Restaurant." Our final project was to create a fictitious food business, draft a business plan, interview like businesses, etc. My business was Cloud 9 Confections. I loved the class and the project and told myself someday I'd make it happen. That was summer of 2005 and in November 2009 I launched it officially.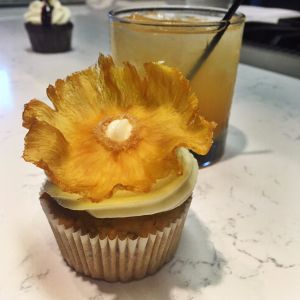 Kat: How did you get started with holding classes in the Epicurean Theatre?
Chef Beth: That's a long story, but the short of it is, I had been following the Epicurean Hotel project long before it opened. As a foodie, I couldn't wait for it to come to fruition. By the time it finally did, and due to years in the hospitality industry in Tampa, I had already established some great working relationships and personal friendships with a lot of the owners and staff.  I noticed they didn't seem to have any classes in the Epicurean Theatre focused on baking so I pitched my ideas and we went for it.
Kat: What's it like teaching a class in the Epicurean Theatre?
Chef Beth: It is by far the best part of my month. I absolutely love teaching the classes. Without fail, I am always nervous at the start. I never know if it's going to be a class that is really engaged and participatory or one that just likes to soak it all in. Once we get rolling it always goes by too quickly! Being able to teach in such a fantastic setting and to be affiliated with such a beautiful hotel is really a privilege.  I truly value my partnership with the Epicurean Hotel.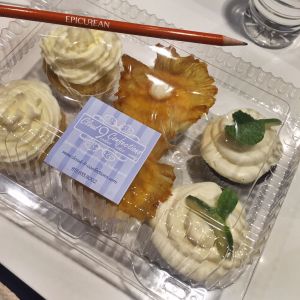 Kat: What is your favorite thing about teaching the very popular "Cupcakes & Cocktails" class?
Chef Beth: I love being able to share my passion for food and my knowledge with everyone in the classes. It's great seeing people's reactions to learning how simple baking can be. Cupcakes & Cocktails (C&C) is such a fun and playful class. Every C&C class is so different, even if the format is similar. Baking and pastry is often seen as a more serious craft in the kitchen and I think the fun factor of this class makes it very outside the culinary box.
Kat: What makes your class different from the other classes in the Epicurean Theatre?
Chef Beth: I am completely self-taught and my business is very grass roots. I like to think that makes me very relatable and helps people to see that anyone can make beautiful and delicious desserts. The techniques learned in my classes very easily translate to the home kitchen. All of the classes in the Epicurean Theatre are great, but I feel good that mine tends to truly appeal to the masses and anyone, regardless of skill or knowledge, can participate and feel comfortable.
Kat: If you could give one piece of advice to an aspiring baker, what would it be?
Chef Beth: Don't give up or let yourself get discouraged.  If it is something you truly love, you can find a way to make it work.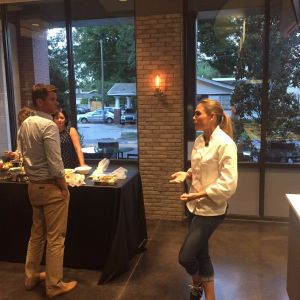 Kat: What is your favorite cupcake flavor?
Chef Beth: Hard to say, all my babies are pretty!  ?  If I had to pick either the Mojito with White Rum Buttercream or a good old-fashioned Dutch Chocolate with Vanilla Buttercream.
Kat: When is the next "Cupcakes & Cocktails" class and what is it about?
Chef Beth: June is going to be a really great class and will be different from my usual Cupcakes & Cocktails.  Bakin' with Bacon debuts June 23.  With summer grilling season in full swing, I decided to bring meat to the bakery. Attendees will discover how to incorporate America's favorite meaty indulgence into sweet treats by learning to make candied spiced bacon and how to apply it to candy and cupcakes.  I get a lot of requests for toffee classes so this will be a fun and unique spin on that.  I am really excited about it!
Hurry… Chef Beth's Cupcakes & Cocktails class usually sells out fast! Check out the Epicurean Theatre website calendar of events and join us for the next C&C class, Bakin' with Bacon on June 23.