Dessert Done Right: Florida Strawberry & Kaffir Lime Tart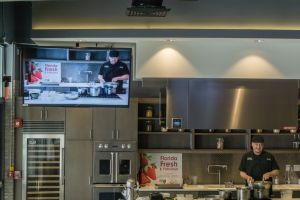 In honor of Florida Strawberry Month in January, I'd like to share a delicious recipe I collected last weekend during a weekend full of strawberry-themed events with the Florida Strawberry Growers Association and Sunday Supperbloggers. As part of the event, Birchwood Executive Chef, Jason Cline led a Chef Demo for a decadent Florida Strawberry & Kaffir Lime Tart in the Epicurean Theatre. His creation featured a gingersnap crust, coconut chantilly cream, strawberry sauce, a mini kick from chili threads and finished off with a sweet-strawberry-lime dust.
This dessert was the perfect mix of tangy and sweet with fresh Florida strawberries! It was so delicious, which got me thinking … how could I keep such a wonderful recipe to myself?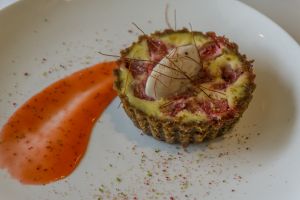 Today must be your lucky day! My fellow Epicurean connoisseurs, I'd like to share Chef Jason's decadent dessert with you:The Florida Strawberry & Kaffir Lime Tart.
Recipe makes 15 individual tarts or 3-10 inch pies.
Ginger Snap Crust
2 cups: Ginger Snap Cookies – ground fine in a food processor
¼ Lb: Butter – at room temperature
Mix all ingredients together in a mixing bowl with your hand until it becomes combined and able to press and mold. Feel free to add more butter if you need it (depending on the cookie)
Press into pie tins with fingers to create the crust (3 oz. of crust per 4 ½ inch pie tin)
Bake at 325 degrees for 7 minutes or until set
Let cool at room temperature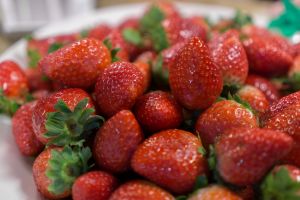 Florida Strawberry & Kaffir Lime Tart
1 qt: Florida Strawberries (cut off the tops and quarter them)
1 oz: Kaffir Lime Leaves (pulverized with a mortar and pestle to release oils)
1 ea: Lime Zested
1 ⅔ qt: Heavy Cream
1 ⅓ cup: Granulated Sugar
1 ⅓ cup: Egg Yolks
¼ tsp: Kosher Salt
In a saucepan, simmer the cream, lime leaves and lime zest for 20 minutes
Strain the cream through a fine mesh strainer and hold for immediate use
In a double boiler, whisk the egg yolks, sugar and salt over medium heat until ingredients are fully incorporated, then use a rubber spatula to continue mixing until the mixture holds a ribbon-like texture
Slowly add the cream mixture, one ladle at a time, until incorporated and continue to rub the spatula across the bottom of the bowl until it reaches a ribbon-like texture again
Strain the mixture through a fine mesh strainer
Place 2 ounces of the diced strawberries into each of the pie crust tins and pour 2 ounces of the kaffir lime-cream mixture into each of the pie tins on the top of the strawberries
Bake at 275 degrees for 16 minutes or until set
Let cool at room temperature
Coconut Chantilly Cream
2 cans: Coconut Milk Solids (2-14 oz. cans chilled overnight so the solids separate using the top solids only)
1 ½ cup: Powdered Sugar
Whip together in a Kitchenaid, or good with muscle power, until stiff peaks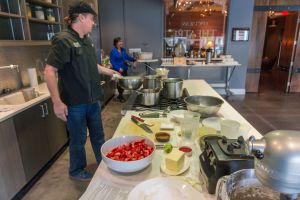 Strawberry Sauce
2 Lb: Florida Strawberries – quartered
1 cup: Granulated Sugar
½ ea: Lemon – juiced
1 tsp: Kosher Salt
Mix all of the ingredients in a saucepan and then simmer until strawberries are soft
Blend the mixture in the blender until smooth
Chill on a sheet pan in the refrigerator to maintain the bright red color
 Strawberry-Lime Dust
2 Lb: Florida Strawberries – sliced thin
10 ea: Limes – zested
Place the strawberries on a parchment paper-lined sheet pan in the oven at the lowest temperature possible for an hour or two, or three depending on your oven. Let cool to room temperature and then pulse in a food processor until dust consistency
Dry the lime zest spread out on a parchment paper lined sheet pan at room temperature until dried out (about 2 hours)
Combine the two and you have your dust!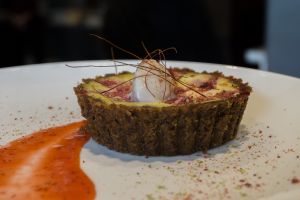 To Plate
On a large round plate, dollop the strawberry sauce with a large spoon. Drag the spoon through the sauce to make a "swoosh"
Place the tart off-centered from the "swoosh"
With 2 large spoons, make a quenelle with the coconut chantilly cream and place off-centered on the tart
Sprinkle the strawberry-lime dust on top and place a few julienne dried Korean red pepper threads on top for garnish

Next time on the blog, you'll meet our Élevage Bar Supervisor, Roger McQueen, who will share his recipe for The Florida Strawberry Mojito, a refreshing cocktail created for those warm Florida winter days. Stay tuned for more ways to Awaken Appetites Unknown at the Epicurean Hotel!