Dive-In Movie: Hot Tub Time Machine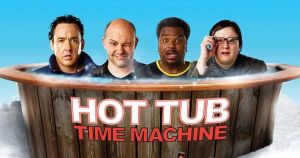 What could possibly go wrong when a malfunctioning time machine at a ski resort takes a man back to 1986 with his two friends and nephew? The answer is, a lot! Jump back in time and relive their fateful night, while floating around with friends in the Epicurean Hotel's pool.
This Saturday, July 16th, from 7 to 10 p.m., slip into your bathing suit and join friends at the ultimate (and complimentary!) Dive-In Movie party at the Epicurean Hotel's pool. Hop on a float or find a spot poolside while you watch Hot Tub Time Machine, brought to you by Cinema Squatch & DJ Fresh Events.
Jam out to live music from the official Tampa Bay Rays DJ Fresh from 7 p.m. until 8:30 p.m. while enjoying food and drink specials. Guests will even have the chance to test out their trivia skills. The fun won't end there! At 8:30 p.m., the complimentary movie screening of Hot Tub Time Machine will begin and it's smooth floating all the way until the end.
Dive into the coolest pool in SoHo for this special summertime event and Awaken Appetites Unknown by visiting our website for more things to do at www.EpicureanTheatre.com.