Dive Into Restaurant Week at Élevage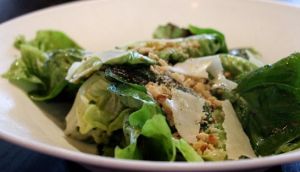 Foodies Rejoice!  Creative Loafing's Restaurant Week is finally here, which means it's your chance to try a mouthwatering three-course menu for only $30 at the Epicurean Hotel.  Whether you are a restaurant regular or an adventurous gourmand, you'll want to stop by Élevage to dive into some of their best dishes on the menu. This is absolutely the greatest deal in town, and it won't last for long. Restaurant Week runs until June 21, so hurry in!
First Course:
Start off with a salad straight from our vertical herb garden located in our lobby. The Epicurean Salad, is a favorite starter of restaurant guests. Enjoy fresh herbs and lettuce, sottocenere cheese, topped with hazelnuts and a banyuls vinaigrette. Or, if you're hankering for a soup that is rich and delicious, try the Roasted Tomato Soup. Topped with Fregola sardo and grilled cheese soldiers. Soup makes every day brighter, and our homemade version is the ultimate comfort food.
Second Course:
Here you have three solid options. Jenna's Burger is a unique take on your average burger. Grilled to perfection and topped with fresh avocado, cheddar cheese, tomatillo salsa, tortilla chips and crispy frites on the side.  Ask your server who Jenna is; you'll want to join her Fan Club!
The Spring Vegetable Risotto is a vegetable lover's dream. Fresh spring vegetables smothered with truffle cheese, parmesan, zesty lemon on top of a rich risotto.  Not only flavorful, but I think this is one of the prettiest dishes served.
Seafood lovers and protein fiends will be happy to know the Cedar Plank Salmon made the list of entrees. Topped with an apple lambic glaze and hazelnuts, with buttery brussel sprouts on the side.  Delicious and guilt-free… that's a hard to beat combo!
Third Course:
Now comes the hard part as you'll have to choose between two of my most guilty pleasures; cheese and dessert.
The Artisanal Cheese Plate is served with sweet and sticky garnishes. If you prefer sweets over cheeses, you'll want to try the Pecan Brownie. The perfect combination of toffee crunch, chocolate cremeux and salted caramel ice cream.
The choices will be tough, but there's no doubt you'll awaken appetites unknown!
Insider's Tip: Consider visiting Élevage on Monday night and SAVE BIG.  Not only will you get to experience our "high value" Restaurant Week menu, but you'll also enjoy our Half-Price Wine Mondays!  Yep.  Choose from any of our wines that are normally priced at $100 or below, and you'll score a 50% discount. How awesome is that?