Do Father's Day Different This Year: Make Dad a "Distiller for a Day"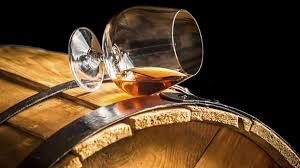 Put down that classic necktie and cologne spray! With Father's Day right around the corner, you know he's not going to tell you what he really wants,but we've heard it loud and clear. The answer is bourbon and a little peace and quiet! That's why Spa Evangeline has created something for dads that combines two of his favorite things; bourbon and bliss.
Two delectable options are now available at Spa Evangeline that have both been specially curated with fathers in mind. The Father's Day special, "Distiller for a Day," features two unique spa services; 60-minute and 90-minute treatments with pure bourbon bliss.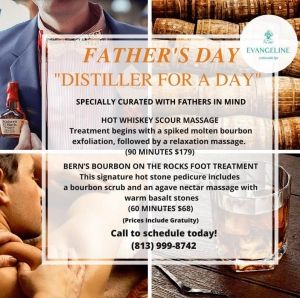 The 90-minute special, Hot Whiskey Scour Massage, is a treatment that begins with a spiked molten bourbon exfoliation, followed by a relaxation massage for only $179. This spa treatment will soften up all the rough edges of his skin, buffing and scrubbing them down with a classic spiked molten bourbon exfoliation. To finish up, he'll enjoy loosening up his tight muscles with a steamed hot towel relaxation massage.
The 60-minute special, Bern's Bourbon on the Rocks Foot Treatment, is Spa Evangeline's signature hot stone pedicure that incorporates a spiked molten bourbon scrub and a foot smoothing ritual, followed by nail grooming and a warm agave nectar basalt stone massage for only $68.
Both services include tax and gratuity, so he will be thrilled when you tell him to leave his wallet at home.
Give dad the gift of pure bourbon bliss as he melts into two hand-crafted signature treatments, where every ingredient has been carefully selected to awaken his senses and refresh his soul. Make this Father's Day an unforgettable one and call Spa Evangeline at 813-999-8742 to schedule his appointment today to Awaken Appetites Unknown.