EDGE Industry Night
Spread the news: something new is coming to EDGE Social Drinkery! Consider this a toast to those who are usually the ones pouring the toasts. Monday nights on EDGE are now dedicated to the hard-working men and women of the service industry. We know that you spend most of the weekends working; think of this as your Friday night, which you so deserve. Gather with your coworkers and fellow industry service comrades at South Tampa's only rooftop bar for the best Monday night special in Tampa!
Here's how it works; present proof of hospitality industry employment or a valid paystub and receive 50% off your entire bill. Paying half the price means you can drink double the amount, right? At least we think so. Tampa is saturated with Industry Nights, but this is different. With elevated views and elevated tastes, EDGE's Industry Night offers spirits for every type of taste bud. So knock back a few rum and cokes or a delicately poured cocktail created by one of EDGE's mixologists. Enjoy over 12 import and craft beers and cocktails that reflect the season.
Although they're not 50% off, you should also treat yourself with delectable dishes including small plates, artisan cheeses and charcuterie and delectable sweets.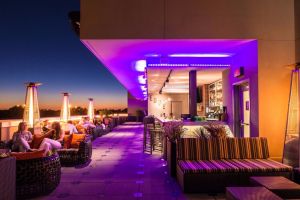 Kick your feet up and relax on EDGE's lounge seating while you enjoy the views of the city and Hyde Park. Colorful lighting, unique artwork from Dalek and cooler temperatures are the recipe for a perfect night. Head to EDGE for a night your palette won't forget. If you're simply looking for things to do on a Monday night in Tampa, look no further. Service industry or not, EDGE is the place to be.
As fellow industry service workers, we know how hard you all work. So here's to you, you deserve it. Cheers!