Eight of the Top Restaurants, One Epic Chef!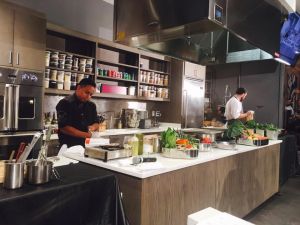 Eight weeks of non-stop action all for an even better cause. This annual cooking competition pits the top local restaurant chefs against each other week by week. In each Epic Chef Showdown round, two competing chefs  received a mystery box of ingredients that are not commonly prepared together, and were challenged to create two dishes that are unique, aesthetically pleasing, and of course delicious — under the pressure of the clock. When time is up, each chef would present their dishes to the judges to be critiqued and scored. At the close of each round, one chef is eliminated and the winning chef moves on to the next round.
Epic Chef Showdown's goal is to bring the local community together to not only enjoy the camaraderie and food from our local top restaurants, but to also take part in something much larger than that happening around us every single day. Hunger is a serious and severe issue in our area — affecting one in seven adults and one in four children. These are our neighbors, coworkers, veterans, and friends who need our help. Epicurean and Feeding Tampa Bay partnered together to create this event and help fight hunger affecting our Tampa Bay community.
Last night, the Epic Chef Showdown finale commenced and one epic chef took the official title as 2016's most epic chef!  The conclusion of a crazy competition wouldn't be complete without some interesting ingredients — lobster and fruity pebbles. Chef Mike from Pearl in the Grove faced off against Parkshore Grill's Chef Mike and both came up with some really remarkable dishes. To give us the full scoop we thought we'd catch up with the Epic Chef Showdown's and Food Network Star, Retro Rad Chef Emily Ellyn, who hosted the competition week after week.  
Kat: How did you get involved with the Epic Chef Showdown at the Epicurean?
Chef Emily Ellyn: I've done two cooking demos at Epicurean Hotel in the theatre, and also had the pleasure of being a judge at the Epic Chef Showdown last year. Both organizations, Epicurean Hotel and Feeding Tampa Bay are top notch. It felt right!
Kat: What was it like hosting the Epic Chef Showdown every week and what did you like most about it?
Chef Emily Ellyn: The Epicurean Hotel feels like a second home to me. During the third week, Tom Haines and I walked in the Epicurean Hotel together and he said, "Welcome home!" It's a magical place for all culinarians. I've always been excited about the whole concept of the Epicurean Hotel. I can remember when they first started building the Epicurean Hotel and ads and stories were covering my news feeds. I thought about how it was a dream come true for any chef and culinary educator. I've always been excited to attend events, host events and experience everything that happens there. As for Epic Chef Showdown, it resonates for me and the chef community. If there's an event … I want to be part of it, and especially if it's an event that's helping people and opening the dialogue about hunger and real issues.
Food is how we survive, communicate and how we show compassion. It's a global language. It's neat that a place like the Epicurean Hotel lets food transcend to ordinary life while using food as the dialogue.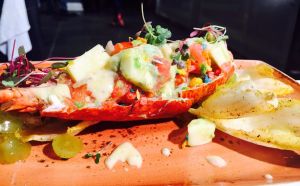 Kat: What was the most bizarre (or most epic) dish you tasted, or experienced during the entire eight-week competition? 
Chef Emily Ellyn: Fruity pebbles and lobster? Two of the most bizarre ingredients used in the finale last night. The winner, Chef Mike from Pearl in the Grove was given Coca-cola and NY Strip Steak. He really pushed himself and left the secret ingredients for last. He seared off the steak with a delicious pepper crust and finished with a Coca-cola sauce with Brandy and Fruity Pebbles. He really made all the ingredients work and the flavors were spot on! He also created a lobster salad with half a lobster tail, then mixed this avocado topping with Fruity Pebbles. Once again, the flavors were spot on and sweetness from the Fruity Pebbles worked perfectly with the richness of the avocado and spices. I was really impressed that he used those combos!As for other dishes, during the first week Chef Alan from Parkshore Grill and Chef Xuan from Restaurant BT were given common ingredients: Peanut butter, pork tenderloin, squid and rolled oats, which really didn't seem so far out of the box. I thought they would most likely rub the pork in rolled oats, but both used the oats in two different ways! The BT Chef created a pilaf, and puffed it like a rice dish while the Parkshore Grill chef cooked it down to a grit. Both were so different and so delicious!
Kat: The Epic Chef Showdown benefits Feeding America Tampa Bay and you're a chef, just like all the contestants — what did you like most about how the two paired well (#nopunintended) with each other?
Chef Emily Ellyn: If anyone is qualified to open the dialogue of food, it's a chef! Chefs are charged with feeding people — it's in their nature to do that. So I think it was smart platform, for chefs to bring the message to the table. For me, I've always loved food and always knew I wanted to be a chef. From educator to entertainer, my goal has always been to nourish people through their hearts, minds and stomachs. And to be able to talk about hunger is a very important element of being a chef. If I can do that in a non-intimidating way and educate them, it's in my wheelhouse. Thomas Mantz (Chief Executive of Feeding Tampa Bay) came out in the middle of the program and made a good point. He noted that we may all be in a high-end dinner, and talking about the issue of hunger, as of which could be an odd pairing. But, we're bringing the issue of hunger to the table and opening the conversation. Feeding Tampa Bay faces a lot of the same challenges as the competition. Some of their clients may have items like fruity pebbles and pork chops, but they must figure out how to combine the ingredients and use them to create a nutritious meal for a family of four. It's a crazy epic battle to get the conversation about hunger on the table and we're starting to make people aware.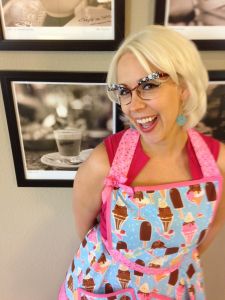 Kat: What was it like coming each week to the Epicurean Hotel to host The Epic Chef Showdown?
Chef Emily Ellyn: I think it's a wonderful event. I think we are so blessed as a community to have Feeding Tampa Bay right here and it's incredible how many counties they are currently servicing. They are a great resource in the community to have. Kudos to the Epicurean Hotel for having them as a community partner. It was so cool seeing it all come together. Every sponsor sits on the Board for Feeding Tampa Bay, and it's inspiring how they are all so emotionally connected. It's not just getting awareness to the big players; they're already in the game — and have been actively participating for years. It's cool when you go every week to see how emotionally vested everyone is, hear their stories and why they are committed to helping.