Elevate your Easter Brunch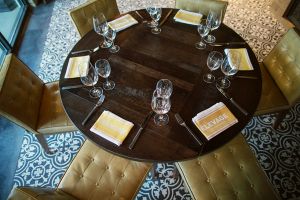 If you haven't made a reservation for Sunday's Easter brunch, you better hop to it! Whether you are looking for something savory, sweet or want to elevate your Easter dining experience this year, we've got you covered. Guests will be treated to a delicious three-course meal at Élevage, Epicurean Hotel'ssignature restaurant.
First course starts with a trifecta of choices. Blue Crab Salad, crispy tortillas topped with ripe tomato, freshly squeezed lime, avocado and red chili. Black Truffle Vichyssoise, featuring smoked salmon, salmon caviar, chopped egg, capers and crunchy rye croutons. Rounding out choices for the first course, the culinary crown jewel of Easter, Country Ham Salad, full of herbs & lettuces freshly cut from the lobby herb wall, cheddar cheese, hazelnut and grainy mustard.
Second course features a variety of choices including a favorite from my southern roots, the famous Shrimp and Grits baby; rock shrimp, creamy grits, savory pork belly, scallion and white wine. Wine Country Scramble, fresh artichokes, wild mushrooms, sweet peppers with a crostini smeared with a rich and creamy goat cheese. Sourdough Pancakes, accompanied with pan-roasted apples, toasted pecans and sweet maple syrup. Brunch Burger, dry-aged beef, fried egg, crispy bacon, tomato and a coffee mayonnaise, because it would be illegal to make an undistinguished burger.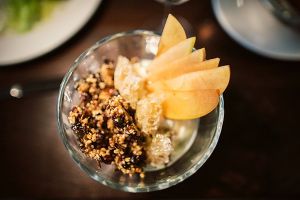 Third course satisfies those sweet cravings to keep you from digging into your kids' Easter baskets. Choose from three exceptional choices. Brioche French Toast, topped with local Plant City strawberries and scorched honey. Tropical Fruit & Berry Parfait, Greek yogurt topped with a tasty sesame granola. Artisanal Cheeses, the Chef's selections, sweet & sticky garnishes.
Don't think we forgot about the bubbly! We know that bubbly in the morning brightens every brunch. Brunch cocktails include; Mimosa, Prosecco, Bellini and Bloody Mary Service each $15. There is also champagne tastings available during brunch. Brunch costs $32 per person.
To make your Easter brunch or a non-Easter brunch reservation you can call: 813-999-8726.
To view the full Élevage brunch menu, brunch beverages and other À la carte brunch options visit: https://epicureanhotel.com/restaurant/elevage-menu/
(Disclaimer: As always remember our Chef is a magician in the kitchen and is known to change up the menu, so the three-course menu is subject to change at anytime)