Epic Chef Showdown Supports Feeding America Tampa Bay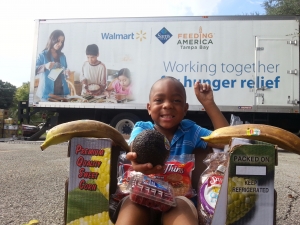 While the Epic Chef Showdown is a fun hometown competition, it also serves a deeper need – combating hunger in Tampa Bay. I sat down with Thomas Mantz, Executive Director of Feeding America Tampa Bay , to give you an inside look at what inspires him and his organization, and how we can all get involved to help fight hunger together. 
How many individuals does Feeding America Tampa Bay help annually?
Feeding America Tampa Bay serves 700,000 food insecure individuals in West Central Florida.
Out of the ten counties Feeding America Tampa Bay supports, what sets Hillsborough County apart from the other counties?
The largest contingent of hungry people are here in Hillsborough county. It's the 8th largest school district in the US, so we have a greater concentration of children, and it's the most populous of our 10 counties.
How can others get involved in supporting Feeding America Tampa Bay?
There are a number of ways for the community to take action against hunger.
1. Volunteer: Volunteers are vital to our mission at Feeding America Tampa Bay. With a volunteer base of over 25,000, we are able to nearly double our impact each year. Our volunteers range from individuals looking to help their community to companies looking to engage their employees. We have several ongoing volunteer opportunities available to join the fight against hunger.
2. Donate: Every donation you make helps get more food on the tables of the 700,000 hungry families, kids and seniors in the Tampa Bay region. With each dollar you give, Feeding America Tampa Bay can help provide 7 full meals.
3. Host a food drive:
– Traditional Food Drive: Feeding America Tampa Bay's mission revolves around food – gathering it from available resources and delivering it to those who need it most. By holding a food drive, you help Feeding America Tampa Bay gather more food that can go into the homes of our food insecure neighbors.
– Virtual Food Drive: For those lacking the necessary storage, equipment or onsite employees for a traditional food drive, a virtual food drive makes helping easy. Find items you want to purchase virtually, and Feeding America Tampa Bay will convert that to meals for those in need.
4. Advocate: Hunger is affecting people all around us – children, seniors, veterans, coworkers, college students. When you spread the word about hunger, it helps Feeding America Tampa Bay further our reach in the community – ultimately providing more food to our hungry neighbors.
What kind of children programs does Feeding America Tampa Bay have?
250,000 children in our area suffer from hunger every year.
1. Backpack Program: Our Backpack Program supplies thousands of school children with bags of shelf-stable, nutritious foods to take home over the weekend and during school vacations. These child friendly, easy-to-process meals and snacks are given to children who are at risk of going hungry on days when they are not in school.
2. After School Meals Program: Feeding America Tampa Bay provides free meals and snacks to low-income children through existing after school activities in the community. By partnering with Boys and Girls Clubs, churches and other school programs, the After School Meals Program encourages children to expand their educational, social and recreational skills in a safe place. For many, the After School Meals Program supplies the only hot meal they receive each day.
3. Summer Meals Program: When school lets out, so does access to a regular breakfast and lunch for many children. Meal sites receive support to provide children free, nutritious meals during the summer months when school is not in session.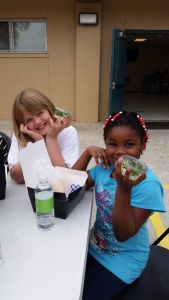 What is the favorite part of your job?
The direct connection between effort and result. We say the same thing to all colleagues:  if we do our job well today, more people eat. It's a very simple imperative that drives me. Aside from that, I love the broad variety of partners we have – from staff to donors to volunteers to community leadership, I get to come across some really terrific people.
What is something people would be surprised to know about Feeding America Tampa Bay?
We are the engine that makes all food relief run in Tampa Bay. Our job is to supply all the local charities with the food they need, whether it's a church pantry, women's center or shelter, we are their food source. Most often the community is aware of these charities, but not that we are the ones supplying the food!

Why is Epic Chef Showdown important to our local community?
Well, first of all it's fun! We think the restaurant community is a great partner for hunger – we all do the same thing, we feed people. Often we're feeding folks at different ends of the spectrum, but we are all committed to the nourishment of those who come to us.  Epic Chef is a neat way for our partners to use their talents to raise awareness about the issue of hunger. Too many people don't know about hunger here in Tampa Bay – Epic Chef is a great platform for us to tell the story.
Which restaurant/chef match-ups are you most excited to see?
Well, personally I wanted to see Chad compete, but he's decided to host, so, I'd say I'm most intrigued not by a particular match-up, but more by how these folks will adapt to such a different setting. These great chefs will be out there in front of the world, offering up their great meals for all to see and enjoy.  You have to have some 'chops' to do that!
You can catch the first round of the Epic Chef Showdown at the Epicurean Hotel in the Epicurean Theatre on Monday, July 27 when Cena takes on Parkshore Grill. For other competition updates and upcoming match-ups visit www.EpicureanTheatre.com.