Epicurean Hotel Celebrates FL Blueberry Month with Wish Farms
Following Florida Strawberry Month in February, April marks the beginning of Florida Blueberry Month. We couldn't be more excited to partner with Wish Farms, a local berry farm that produces all of the delicious blueberries you'll be consuming during the entire month of April inside the Epicurean Hotel. You'll notice we'll be celebrating throughout the blog, website, social media and special classes in the theatre.
To get the real scoop, I went one-on-one with Wish Farms third-generation family owner, Gary Wishnatzki. No one knows the blueberry (and strawberry) business quite like Gary, and after chatting with him everything made perfect sense to why the Epicurean Hotel and Wish Farms would pair perfectly together.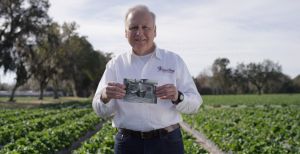 I'll dive into more details on Gary Wishnatzki and his background in a later blog. Today, let's talk Wish Farms blueberries and what makes this partnership so unique.
Since 1922, Wish Farms has been marketing fresh produce for independent growers and began its own growing operation in 1987. As a third-generation family-owned and operated produce company, they are proud to be a leader in the agriculture industry. Wish Farms is a year-round supplier of strawberries and blueberries, offering both conventional and organic varieties. Their growing operations have expanded much farther than our local area. Regions across the United States, South American and Canada are just a few of the ever-expanding territories they supply with delicious produce.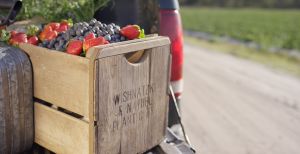 So, what inspired Wish Farms to partner with the Epicurean Hotel? 
I'll give you one hint; it's all about family and tradition. Both businesses were started by family and are still run to this day, by family. Gary and his family have always been fans of Bern's Steak House, well before the Epicurean Hotel was ever built. Wish Farms (also known as Wishnatzki Farms) has been in business since around the 1920's and Bern's Steak House quickly became a local Tampa favorite about 30-years later in the 1950s. These are two companies that have been around locally for ages, making it a perfect fit.
This is a first for Wish Farms. They have never had a partnership with any kind of restaurant or hotel and they couldn't be more excited to be connected and help educate local blueberry consumers throughout the month of April and beyond.
The history of Gary's family and Wish Farms is fascinating and I urge each and every one of you to go and read his stories on their website here. Gary is a fantastic storyteller and makes you feel like you're right there in the berry fields experiencing every step with Strawberry Joe, Uncle Lester, Big Willie and more. His blog is entertaining, heartwarming and the perfect place for consumers to connect with where their fresh produce comes from.
Stay tuned for more blueberry blogs including, blueberry-themed classes in the Epicurean Theatre, blueberry recipes from the Élevage kitchen and bar, a one-on-one with Gary Wishnatzki and more ways to Awaken Appetites Unknown!