Epicurean Hotel Named 2015 Hotel of the Year — Autograph Collection — East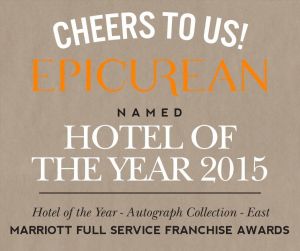 We are so excited to announce that the Epicurean Hotel in Tampa was recently named 2015 Hotel of the Year — Autograph Collection — East. The award is based on a set of criteria and guiding principles, including revenue and room nights, as well as the hotel's execution of brand strategy, staff teamwork and cultivating the Marriott culture.
"The entire Epicurean team strives to give our guests the ultimate Autograph Collection experience, going above and beyond every day," said Joe Collier, president of Mainsail Lodging & Development, which developed the Epicurean Hotel in collaboration with the legendary Bern's Steak House. "Being honored by Marriott as Hotel of the Year is well-deserved recognition for all their hard work and unwavering commitment to a truly outstanding product."
"Not only did we have a record-breaking year with wonderful financial results, we really stretched the boundaries this year with some milestone programs," said Tom Haines, general manager of the Epicurean Hotel. "With events ranging from the Friends of James Beard Dinner to the Epic Chef Showdown in collaboration with Feeding Tampa Bay, we were really able to showcase the heart and soul of the hotel."
We're so proud of what the Epicurean Hotel has become and what it strives to be for our guests; the Connoisseurs of Life. If you haven't had the chance to experience our one-of-a-kind culinary destination, or if it's been awhile, make plans today to Awaken Appetites Unknown!