Epicurean Hotel Welcomes Haven to South Tampa
Let us be one of the first to welcome the newest groundbreaking restaurant to the buzzing South Tampa culinary district and to the Epicurean Hotel family.
Right down the street from the Epicurean Hotel, along Howard Avenue, Haven, which was formerly SideBern's (little sister to Bern's Steak House), is reopening their doors this week with an entirely new space, a new menu, and a Bern's worthy wine list.
Haven will specialize in the concept of "crafted, cultured and cellared" offering a myriad of wine, cheese and charcuterie selections you will surely swoon over. The new menu remains under the direction of our very own Executive Chef Chad Johnson (a two-time James Beard Best Chef: South Semi-finalist) and Chef de Cuisine Courtney Orwig.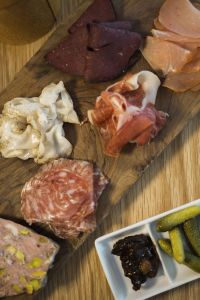 The new menu will feature a variety of market-fresh cuisine, craft beers, homemade sodas on tap; over 300 Bourbons along with 100 cheeses, a variety of charcuterie, and over 40 wines by the glass, including featured wines using the Coravin system. The wine collection will also include 550 regional and global vintages and signature cocktails are homemade and muddled using only the freshest ingredients.
The inside of the restaurant mixes a gorgeous blend of unique lighting, rich wood, and dramatic accents to elevate the overall design concept for this high energy, upscale restaurant. Jaws will drop as guest marvel over the elegant interior upgrades, like their 25-seat bar, 2500 bottle wine cellar, charcuterie station and cheese cave. In addition, elevating the outdoor dining experience, space has been added outside on the exterior patio facing the hip Howard Avenue, further enhancing SoHo's popular culinary district while making it more pedestrian friendly.
Just a hop, skip and a jump away from the Epicurean Hotel, Haven's bar will be open regularly Monday through Wednesday from 5-10 PM, and Thursday through Saturday from 5-11 PM. Dinner is served Monday through Wednesday from 5:30 PM until 10 PM and Thursday through Saturday from 5:30 PM until 11 PM.
Plan your next vacation around a classic culinary experience. Guests who stay at the Epicurean Hotel are steps away from four trendy and out-of-this-world dining experiences, unlike any other. Located inside the Epicurean Hotel, guests can feast at Élevage, grab hand-crafted cocktails at EDGE Social Drinkery; across the street is the world-famous Bern's Steak House and now the new Haven is within easy walking distance.
We invite you to Awaken Appetites Unknown!