Epicurean Theatre Welcomes Pit Master Doug Driscoll from Just Grillin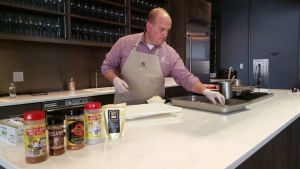 Doug Driscoll, owner and pit master from Just Grillin returns to the Epicurean Theatre on Thursday, April 6, for a finger-licking, Southern Soul Food Favorites class.
He's been teaching grilling enthusiasts how to smoke, sear, braise, poach, teppanyaki and roast meats to perfection on all types of grills. In Doug's Southern Soul Food Favorites class you'll learn how to perfect these delicious dishes: Fried green tomatoes, sweet honey chile chicken and cornbread muffins, southern smoked mac n cheese and hummingbird cake. His passion for grilling radiates and you'll be amped to fire up the grill at your next dinner party.
With sweet honey chile chicken being one of the main dishes from his cooking class, I sat down with Doug and asked him to clear up one of the biggest grilling challenges — grilling the perfect chicken, without burning or overcooking it. He said, "Remarkable clients cook chicken breasts on the grill or in their oven to where there is not a lot of moisture in the meat. Chicken is a great example of cooking the meat at the correct temperatures to help you enjoy chicken that is moist, tender and delicious without turning it into jerky. In our class this week, we'll discuss proper techniques of searing meats on the grill and how to achieve delicious grilled food."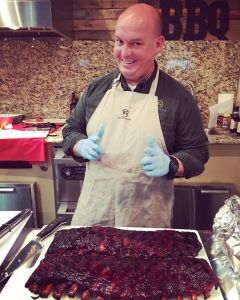 There's no doubt that Doug is passionate about grilling. He's been invited to participate in, and judge, in numerous cook-offs. Knowing his passion for grilling and his business Just Grillin, located here in Tampa, I asked him what it's like purchasing a grill from his store instead of the average retail stores. He explained, "At Just Grillin, we focus on our client's needs. Every Just Grillin team member is dedicated to customer service, providing the very best grilling knowledge to our clients so they can successfully prepare foods on all kinds of grills at their home. Just Grillin also provides design-build planning and installation services to clients that want to build their BBQ backyard oasis."