Epicurean's New Front Man & General Manager, Kevin Scott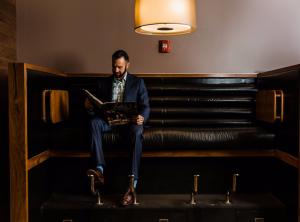 There is a new sheriff in town, and by town; I mean Epicurean Hotel. For the past five years, Tom Haines has been running the show as general manager of the Epicurean. As Tom kisses the hotel goodbye and starts his new journey as vice president of operations at Mainsail Lodging & Development (Epicurean Hotel's parent company), we welcome Kevin Scott! He is certainly not new to the hospitality industry, where he has spent the past 13 years of his career. Coming to us all the way from Seattle, we invite you to get to know our new GM and leader of the foodie pack.
Where were you working prior to the Epicurean Hotel?
Hotel Max in Seattle, WA.
What sparked your interest in the hospitality industry?
My family moved around a lot when I was younger. We stayed in hotels for up to 90 days with each move. It was my favorite part of moving. I got to meet new people, get to know the hotel team and once I had the opportunity to work for a hotel it was love at first sight.
How did you end up in Tampa?
My family and I relocated here at the end of 2016 to be closer to my parents who live in St. Pete. As a father to a young son (5) and daughter (3) it's made all the difference in the world being closer to family.
What aspect of your new position are you most excited about?
Working for such an amazing company and alongside such a wonderful and positive team. Being a part of Autograph Collection really is the best of both worlds. We have the ability to innovate and encouraged to try new things all while having the power of the Marriott brand behind us.
What drew you to the Epicurean Hotel?
Besides being one of the only lifestyle hotels in Tampa; it's the story. The collaboration with Bern's Steak House and the legacy of that restaurant is phenomenal. It allows us at the Epicurean to leverage the story and continue to pay homage to Bern by providing learning opportunities with the Epicurean Theatre and to Awaken Appetites Unknown.
What do you do when you're not running a boutique hotel in South Tampa?
I'm usually with my kids. Baseball, gymnastics, coaching my son's soccer team.