Feed Your Weekend Appetite (And More) at the Epicurean January 22 through January 24
Looking to Awaken Appetites Unknown? We have plenty to whet your appetite with everything we have going on at the Epicurean Hotel this weekend and beyond.
Weekly happenings at the Epicurean Hotel include:
Saturday, January 23: Gasparilla Children's Parade (3:30 p.m.-6 p.m.)
*Complimentary valet parking with purchase of Élevage Brunch
Grab your mini-buccaneer and join us for a delicious brunch at Élevage before making your way down to the parade route (We're located just a few blocks away!). Parking can be challenging (and expensive $$) during the Gasparilla Children's Parade, but if you come brunch with us (#babypirates welcome) you'll receive complimentary valet parking at the Epicurean Hotel.
Saturday, January 23: "Piratechnic" Fireworks Extravaganza (7 p.m.-7:30 p.m.) at EDGE
You'll have the best seat in the house watching the fireworks on Saturday night at EDGE, the Epicurean's rooftop bar. Fireworks are staged in the bay in front of Howard Ave. and Bayshore Blvd., so you won't find a better seat than at EDGE! Adults only: No baby pirates.
Sunday, January 24
Thai Hands on Cooking: Vegetarian (12 p.m.-2 p.m.) in the Epicurean Theatre
Roll up your sleeves and join the one-and-only Petta Brown, Chef and Owner of Thai Gourmet Market for a special three-course vegetarian Thai meal (with wine pairings) inside the Epicurean Theatre.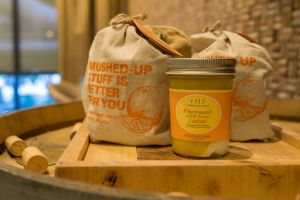 January Specials in Spa Evangeline
Make 2016 the year of rest and relaxation! Bring a friend to Spa Evangeline Monday-Thursday and you'll receive 30% off your treatment the same day.
"Turn Back the Hands of Time" with a 120-minute package for $195. We've already turned back our clocks one hour, why not turn the clock back on time itself with our most decadent anti-aging facial and finish off with their signature manicure that will leave your hands and nails ready for any upcoming party?
Enjoy the Grape Body Affair Body Treatment Introductory Special offered for 20% off in the month of January! ($185 for 60-minutes and $185 for 90-minutes)
This month's FarmHouse Fresh Seasonal Specials include: The FarmHouse Fresh Seasonal Body Treatment: The Bourbon Cowgirl, a 60-minute facial for only $115 or $185 for 90-minutes and the FarmHouse Fresh Seasonal Hand & Foot Treatment with Orchard Custard, $55 for a pedicure and $40 for a manicure. 
Note: Spa Evangeline will be CLOSED on Saturday, January 30 (Gasparilla Pirate Invasion)
For more Seasonal Specials visit www.spaevangeline.com.
Happy Hour: Every day from 3 p.m. to 7 p.m. in Élevage Bar
Enjoy the happy hour that everyone is raving about! Featuring $5 Chef Chad's choice appetizers, $5 cocktails, $5 wines by the glass, and $3 beers. Isn't it time you elevated your Happy Hour expectations? And, we'll keep it fresh and exciting by changing the menu and selections each week. Just remember; the menu may change, but the prices will stay the same.
Coming up you don't want to miss…

Glenlivet Scotch Tasting
Thursday, January 28, (7 p.m.-9 p.m.) 
Calling all scotch enthusiasts! Join Alex Thaler, Multicultural Scotch Brand Ambassador, in the Epicurean Theatre for the First Single Malt Social Club tasting. Enjoy a two-hour Single Malt Scotch tasting that encourages the exploration of the category by showcasing three different single malts. Tickets are $50 per person and can be purchased at www.EpicureanTheatre.com.