Feed Your Weekend Appetite (And More) at the Epicurean June 9 -11
We've got the scoop on everything going on at Epicurean and Tampa Bay this weekend. Looking for the perfect Father's Day gift? Look no further.
Father's Day & June Spa Specials at Spa Evangeline
Man of the Hour: The 60-Minute Swedish Massage, Signature Hot Stone Pedicure and Bern's Bourbon on the Rocks Foot Treatment for just $185 is the perfect Father's Day gift for those who need a bit of relaxation in their lives.
All About Dad: Leave Dad feeling refreshed with a 60-Minute Muscle Melting Massage and a 50-Minute Antioxidant facial for $200.
Gentleman's Escape: Give him the ultimate day of relaxation with a 90-Minute Detox Rocks Massage, a 50-Minute ELEMIS SuperFood Facial and a Bern's Bourbon on the Rocks Pedicure for $375.
Summertime Revitalization: Unwind and relax during this 60- Minute Swedish Massage for just $89.
Summer Detox: Guests will leave refreshed with a detoxing 20-Minute HydraFacial for $79.
Watermelon Vodkatini: Your skin will drink up this boozy, watermelon-infused scrub during a fruity manicure and pedicure for $79.
Check out the current Tampa Spa specials click here.
 20% service charge added at checkout, call Spa Evangeline for reservations (813) 999-8742
Up Next: Boozy Lunches
Channel your inner Don Draper and enjoy 50 cent, mid-day martinis at Élevage. No that was not a typo, martinis are just 50 cents Monday through Friday when purchased with a lunch entrée! Stay tuned for more details!
Rain, Rain Go Away…Well, at least on SPLASH Sunday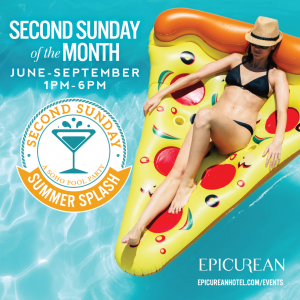 Due to the torrential downpour that the state of Florida has been receiving this week and will receive over the upcoming weekend, Second Sunday Summer SPLASH originally scheduled for June 11th has been postponed to Sunday, June 25th. Here's the good news: Yoga with a Twist is also on June 25th!  Start off the morning with a dose of downward dog and end the afternoon with a refreshing cocktail by the pool. Sounds like a perfect summertime Sunday to me! For more details and info about how to score complimentary admission, click here.
Epicurean Must Do's
Head up to EDGE Social Drinkery for rooftop cocktails and superior sunset views. Weekend goal = try all of the new cocktails being poured, shaken an stirred at EDGE. Good luck!
Check out the current CASS Art Exhibition: Chris Valle in the lounge and library of Epicurean. Just look for the skulls and Chanel C's adorning the walls. Be sure to experience Chris Valle's entire collection at the CASS Contemporary Art Space & Studio.
Stare in awe of the newly painted mural by artist Dalek at EDGE. The bold patterns and bright colors are the perfect backdrop for that evening cocktail or Instagram-worthy selfie.  Check out this awesome video of all it took to create this work of art.
Upcoming Events:
Creative Loafing's Tampa Bay Restaurant Week: Élevage, June 15th – June 25th
Starting Thursday, June 15th Élevage will be offering a special prix-fixe menu in collaboration with the 10th Annual Creative Loafing Restaurant Week. For just ten days, this $45, three- course meal will make foodies do a double take. Check out the menu here and don't forget to make a reservation today!
Sushi 101, Epicurean Theatre, Thursday, June 21st From 7:00 pm -9:00 pm.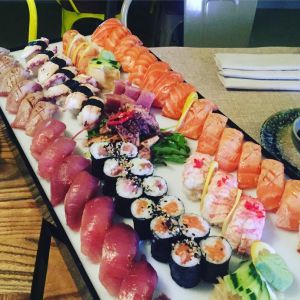 Sushi lovers, listen up.  Learn to roll your own, fresh sushi from sushi master, Chef Viet Vo of Mad Chef. Tickets are $80 per person and include a complimentary glass of red or white wine during the class. Click here to view the menu and buy tickets before they sell out!