Feed Your Weekend Appetite (And More) at the Epicurean May 19 through 22
Looking to Awaken Appetites Unknown? We have plenty to whet your appetite with everything we have going on at the Epicurean Hotel this weekend and beyond.
Weekly and weekend happenings at the Epicurean Hotel include: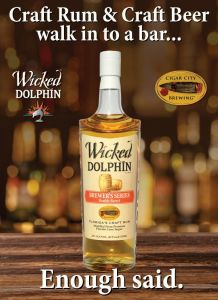 Thursday, May 19, (7 p.m.–9 p.m.)
Cigar City Brewing and Wicked Dolphin Rum
Spend the evening tasting multiple collaborations between two of Florida's hand-crafted brands. Wicked Dolphin Rum, located in Cape Coral, uses 100% Florida sugar and local ingredients. Cigar City Brewing, located in Tampa, is an award-winning neighborhood brewer known for their inventive beers and popular tasting room. Both brands will provide three tastings, paired with cheese and charcuterie from Élevage. Tickets are $50 per person and can be purchased at www.EpicureanTheatre.com.
Spa Evangeline Specials:
The newest in skincare: The HydraFacial MD® treatment is now offered at Spa Evangeline. In as little as 30-minutes, you'll feel completely refreshed and rejuvenated. View pricing and specials here. Call Spa Evangeline for an appointment today at 813-999-8742.
Give a Gift; Get a $25 Gift Card! Father's Day is right around the corner, so you're probably scrambling for the perfect gift for Dad. This month, purchase a $250 Spa Evangeline gift card and receive a $25 bonus gift card.
Distiller for a Day; Specially curated with Fathers in mind.  Treat him to a day of relaxation with the Hot Whiskey Scour Massage ($90 Minutes, $179) and Bern's Bourbon on the Rocks Foot Treatment (60 Minutes, $68).  Prices include gratuity and can be booked today by calling the spa directly at 813-999-8742.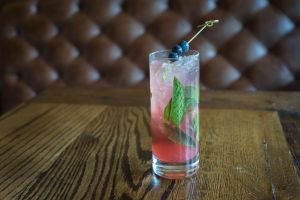 Every day from 3 p.m.–7 p.m. in Élevage Bar
Why limit happy hour to just one hour? Enjoy the happy hour that everyone in SoHo is raving about! Featuring $5 Chef Chad's choice appetizers, $5 cocktails, $5 wines by the glass, and $3 beers. Isn't it time you elevated your Happy Hour expectations? And, we'll keep it fresh and exciting by changing the menu and selections each week. Just remember; the menu may change, but the prices will stay the same.
Hospitality Industry Night: Sundays at EDGE
Do you work in the hospitality industry? If so, you should be joining us every Sunday night at EDGE! Take the elevator to the top and receive 50% off beer, wine and cocktails (excluding happy hour) with proof of employment.
Gregory Berg: CASS Contemporary Art Space & Studio
Experience the newest gallery to join the CASS Contemporary Art Space & Studio's permanent satellite gallery at the Epicurean Hotel. Gregory's show titled "Because of You," features feet dangling over skyscrapers, mysterious innards of subway tunnels, bright lights and dazzling colors, ruins of century-old theaters and abandoned psychiatric wards. It's a must-see, must-experience gallery! And for a limited time, prints signed by Gregory Berg are available for purchase at Epicurean's front desk.
Also coming up you don't want to miss…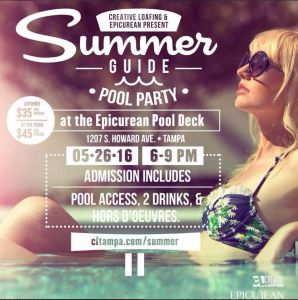 Thursday, May 26, (6 p.m. – 9 p.m.)
Creative Loafing & Epicurean Present: Summer Guide 2016 Pool Party
What's the coolest thing to do when the weather's hot, hot, hot? Take a dip in the pool with a drink in hand, of course! Kick off Memorial Day Weekend poolside at the Epicurean Hotel and celebrate the release of the Creative Loafing's annual Summer Guide.
Get your tickets online here in advance for $35 (or at the door for $45). Admission includes pool access, two drinks and hors d'oeuvres.
Book a room, take the elevator home! Enjoy special hotel pricing of $300 (in advance only), which includes admission to the event, a room for the night and more. For more details visit www.EpicureanTheatre.com.
Sunday, May 29, (11 a.m. –noon)
Yoga with a Twist
Yoga's back! Take a class and enjoy a glass every last Sunday of the month! All yogi levels are welcome to join for a feel-good, Florida-sun flow class. We recommend your purchase your mat space in advance, to guarantee your spot (remaining spaces can be purchased with cash day–of). Cost is $15 per class, $20 for class and a glass (includes one drink ticket). For more information visit www.EpicureanTheatre.com.