Feed Your Weekend Appetite (And More) at the Epicurean: November 12 through November 15
Looking to Awaken Appetites Unknown? We have plenty to whet your appetite with everything we have going on at the Epicurean Hotel this weekend and beyond.
Weekly happenings at the Epicurean Hotel include: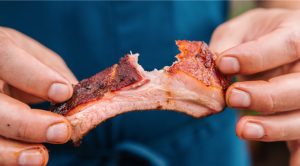 LAST CALL! Indoor BBQ Tonight! Thursday, November 12, in the Epicurean Theatre (7 p.m.–9 p.m.)Become the "Pit Master" of your own kitchen with the Epicurean's very own, Chef Max Sherard! Chef Max will divulge his secrets on how to get the same great taste of "low and slow smoking" in the comfort of your very own kitchen, paired with an unbelievably delicious menu. Tickets for tonight's BBQ extravaganza are $65. To purchase tickets and learn more, visit www.EpicureanTheatre.com.
Mondays through Thursdays in Spa Evangeline Time Management Therapy, 30-Minute Express Services We get it; you're busy. That doesn't mean you can't make time to relax! Sometimes 30-minutes is all you need to feel rejuvenated and ready to conquer the busy week ahead!  To top it off, these 30-minute pampering sessions include a complimentary glass of champagne, wine, or Maker's Mark. (Done & done!) Choose from the Sparkling Moscato Manicure ($30), Pinot Grigio Pedicure ($45), Food for the Sole ($65), Sauvignon Blanc Scalp Massage (15-min $30), Bourbon Back Soother ($30) and the Maker's Mark Target Massage ($65). New spa special alert! The FarmHouse Fresh Introductory Facial; a 30-minute facial for only $50! *menu & prices could vary seasonally.
Bonus: Spa Evangeline has extended their hours and they are now offering In-Room Massages for hotel guests!
For more information and details on each treatment, visit the Spa Evangeline website or call 813-999-8742.
Happy Hour Everyday from 3 p.m. to 7 p.m. in Élevage Bar
Enjoy the happy hour that everyone is raving about! Featuring $5 Chef Chad's choice appetizers, $5 cocktails, $5 wines by the glass, and $3 beers. Isn't it time you elevated your Happy Hour expectations? And, we'll keep it fresh and exciting by changing the menu and selections each week. Just remember; the menu may change, but the prices will stay the same.
Coming up you don't want to miss …
Holiday Cocktails Saturday, November 21, in the Epicurean Theatre (7 p.m.–8:30 p.m.)
Join Dean Hurst, Director of Spirits of Bern's Steak House, Haven and the Epicurean, as he shares some helpful tips and recipes to add a little spice, but make everything nice at your holiday parties. From candy corn to apple pie, the possibilities are only limited by your imagination.  Tickets are $40 and can be purchased at www.EpicureanTheatre.com