Feed Your Weekend Appetite (And More) at the Epicurean October 21 through 23
Are you ready to Awaken Appetites Unknown this weekend? We have many indulgent events begging for your participation at the Epicurean Hotel, this week, weekend and beyond.
Friday, October 21, (7-9 pm)
Chefs for Excellence
Join local chefs and host celebrity chef Max Hardy for a once-in-a-lifetime culinary competition benefiting the Hillsborough County Center of Excellence. Join one of our chef-coached competitor teams, or sit on the sidelines and enjoy a three-course meal with wine pairings. Tickets are $150 for audience members and $1,000 for participants.
Sunday, October 23, (8 am-5 pm) 
Napa Valley Wine Academy WSET: Level 1
If you're looking to jump start your career in wine, or boost your confidence as a connoisseur, this class provides a basic introduction to the core styles of wine available today. For tickets, visit the Napa Valley Wine Academy here.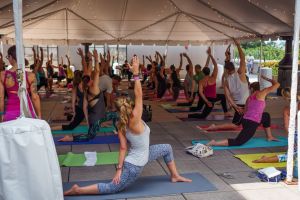 Sunday, October 23, (10-11 am)
Yoga with a Twist 
Take our monthly yoga class, and enjoy a glass! Every last Sunday of the month (or second-to-last, in this case!), join us on the Epicurean Garden Terrace for a feel-good, Florida-sun flow (all levels welcome!) hosted by Megan Blizard of Kodawari Studios. Tip: Purchasing your space in advance guarantees your mat space! Tickets are $15 for the class only, or $20 for the class and a glass (one drink ticket). For more information visit EpicureanTheatre.com.
Happy Hour: Every day from 3–7 pm: Élevage Bar
Stop in at the Élevage Bar and enjoy four of the happiest hours in SoHo any day of the week! Featuring $3 beers, $5 cocktails, $5 wines by the glass, and $5 appetizers. We keep the experience fresh and exciting by weekly curating the menu and selections, at Chef Chad Johnson's culinary discretion. Just remember: though the menu may change, the prices will stay the same. Isn't it time you elevated your Happy Hour expectations?
Spa Evangeline: Savor the Season Special
Fall is in the air! Grab your pumpkin spiced latte and be anything but basic with this month's Spa Evangeline specials. Dive into the Caramel Pumpkin Body Melt, with caffeine-infused caramel body polish and a super charged organic pumpkin puree mask. A sweet cream body milk massage seals the deal with 90-minutes of pure relaxation. Or try the Spiked Pumpkin on the Rocks Manicure and Pedicure, with a pumpkin puree mud mask that warms, tingles and oxygenates your skin, bringing a healthy glow. Find the specials, pricing and other details here.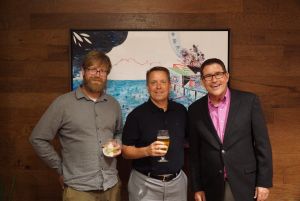 Max Kauffman: CASS Contemporary Art Space & Studio
Ongoing daily in the Epicurean Library Lounge
Our fourth featured artist, Max Kauffman, brings his eclectic art to the Epicurean Hotel's Library Lounge gallery. His show titled "When The Current Dictates" is inspired by anthropology, architecture and the magic of nature — evoking the everyday struggles of humanity. Gallery pieces may be purchased at the Epicurean front desk. Interested in viewing or purchasing any of his work outside our gallery? Visit http://www.kauffmanartistry.com./
More upcoming events you won't want to miss …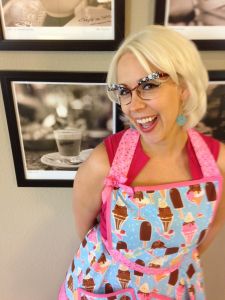 Wednesday, October 26, 7-9 p.m.
Emily Ellyn's OktoberFeast
Chef and culinary educator, Emily Ellyn is best known as the Retro Rad Chef from Food Network. Join her as she takes you through a delicious four-course meal featuring Eggplant Parmesan Caprese Toast, Roasted Butternut Squash Soup, Braised Beer Short Ribs with Winter Compote over Mashed Root Vegetables, serviced with Roasted Brussel Sprouts in Balsamic Glaze and Chocolate Tea cakes with Rosewater Frosting. Sound pretty rad, or what? Tickets are $85 per person, and can be purchased onEpicureanTheatre.com.