Feed Your Weekend Appetite (And More) at the Epicurean September 1- September 4
Summer of Rum Festival: Saturday, September 2nd from 12:00pm – 11:00pm, Curtis Hixon Park
Celebrate the close of summer at the Summer of Rum Festival this Saturday! Sip on a plethora of rums and tropical drinks throughout the day as you listen to tropical live tunes. Shaggy, Baha Men and six other Caribbean bands will perform. Celebrate Labor Day weekend in the most Florida way possible; by sucking down a Pina Colada while listening to Shaggy sing "It wasn't me"! Tickets are $20 if you buy now and $25 at the door. Get your rum on, Tampa!
Ready, Set, Veuve Clicquot: Élevage Brunch every Saturday & Sunday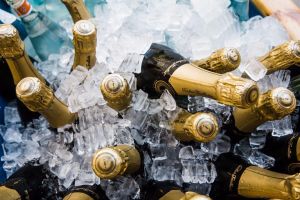 Starting this Saturday, September 2nd, Veuve Clicquot yellow label will be offered at Élevage brunch every weekend! Enjoy the crème de le crème of champagnes for $10 a glass. Let's be honest, one of the best aspects of brunch in Tampa is the booze. Not only does Élevage serve one of the most recognized champagnes in the world, they also offer bottomless mimosas, Bellini's AND Bloody Mary's for just $15. What's better than getting toasted while filling your belly with delicious brunch entrees in a breathtaking setting? We'll wait. Make a reservation today!
Epic Haven Hop: Friday, September 8th from 3:00pm – 8:00pm, Élevage & Haven
Get your hoppy hour on at the Epic Haven Bar Hop!  Join us on Friday, September 8th for an evening of libations and questionable behavior between two of your favorite neighborhood watering holes. Enjoy happy hour at Élevage from 3pm – 7pm and Haven from 5pm – 7pm, then make your way to the opposite bar with your receipt for a complimentary drink from 7pm – 8pm. Essentially, you are being rewarded for drinking (finally). Snack on savory happy hour bites at both bars while you start the weekend off right! It gets better; post a picture during the hop with the hashtag #EpicHavenHop for a chance to win a $50 bar tab at both Élevage and Haven! Good things come to those who indulge.
Second Sunday Summer SPLASH: Sunday, September 10th, 1:00pm – 6:00pm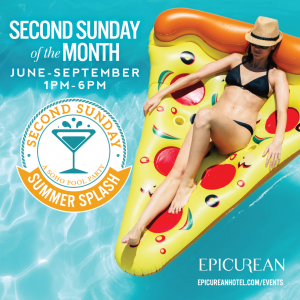 Epicurean Hotel's summer pool party series is coming to an end, so get your last taste of summer next Sunday. Big Green Egg BBQ plus giant pool floats plus DJ Fresh equals the best.Sunday.ever. Cool down with craft cocktails and beer specials. Snag free goodies and giveaways during the SKYY Vodka takeover at SPLASH! VIP cabanas are sold out, but you can put your name on the waitlist here. General admission tickets are selling fast, so purchase them here before they're gone! For more details and info about how to score complimentary admission, click here.
Epicurean Must Do's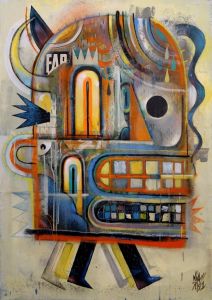 Head up to EDGE Social Drinkery for rooftop cocktails and superior sunset views. Weekend goal = try all of the new cocktails being poured, shaken and stirred at EDGE. Or, grab a bite off the new food menu. While you're sipping on libations, stare in awe of the newly painted mural by artist Dalek at EDGE. The bold patterns and bright colors are the perfect backdrop for that evening cocktail or Instagram-worthy selfie. Check out this awesome video of all it took to create this work of art. *Please note: EDGE will be closed every Sunday and Monday through September.
And while you're at it, visit the brand new CASS Art Exhibition: Niark1 in the library lounge of Epicurean. You won't be able to miss the colorful monsters and creatures that brought this French artist to fame!  Be sure to experience Niakrk1's entire collection at CASS Contemporary Art Space & Studio.