Feed Your Weekly Appetite (And More) at the Epicurean February 20-26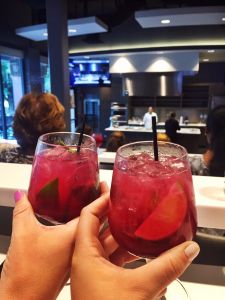 Are you ready to Awaken Appetites Unknown this week and beyond? We have plenty to whet your appetite with everything going on at the Epicurean Hotel and Tampa this week and weekend.
Cupcakes & Cocktails: I Heart Chocolate 
Wednesday, February 22, (7-9 p.m.)
Very few tickets still remain for the most chocolately Cupcakes & Cocktails class yet! Make three different types of decadent, chock full of chocolate cupcakes, each paired with an equally amazing cocktail. Best of all, guests get to bring six cupcakes home to their loved one. Tickets are $65 per person and can be purchased here.
Calligraphy Uncorked
Thursday, February 23, (7-9 p.m.)
The Epicurean Theatre is excited to welcome Janee' Scarle of Old City Calligraphy for an Introduction to Modern Calligraphy for beginners. She'll provide a starter kit with all the tools you need to get started, and we'll provide two complimentary glasses of wine. Unfortunately, this class is currently sold out, but the good news is … we've added another class to our schedule on March 9. Tickets are $85 per person, and can be purchased here for the March class.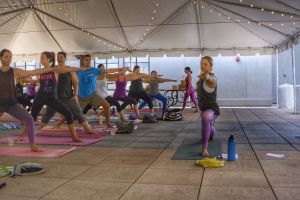 Yoga With a Twist
Sunday, February 26, (10-11 a.m.)
Clear your mind, body and soul at our monthly Yoga with a Twist. This feel-good, Florida-sun flow welcomes all yoga levels and is hosted by the wonderful Megan Blizard, aka Yogi Bliz, of Kodawari Studios. Cost is $15 for a class, or $20 for a class & glass (1 drink ticket). This week, Megan has a special surprise for one lucky yogi. She's partnering with Gasparilla Music Festival (GMF), and is giving away one Saturday GMF ticket. To guarantee your mat space and a chance in the GMF ticket drawing, you'll want to reserve your spot by registering here.
BASK: CASS Contemporary Art Space & Studio
Ongoing daily in the Epicurean Library Lounge
Our fifth featured artist, BASK, brings his richly textural works that imbue his "ant-iconic" and sometimes satirical worldview, with an undercurrent of dark emotion. Stop by our lobby to purchase BASK's work for the art lover in your life.  For a sneak peek at the collection, view it here.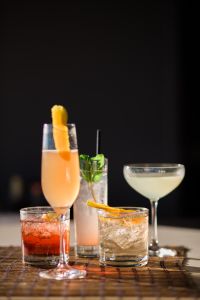 New Cocktails at EDGE Social Drinkery
Enjoy the cooler evening air all weekend long at Epicurean Hotel's rooftop bar and social drinkery that's unlike any other in Tampa. Kick back, relax and sip on the newest nine, must-try, hand-crafted cocktails and artisanal spirits on the EDGE of your expectations.
Happy Hour: Everyday from 3–7 pm: Élevage Bar
Stop in at the Élevage Bar, and enjoy four of the happiest hours in South Tampa any day of the week! Featuring $3 beers, $5 cocktails, $5 wines by the glass, and $5 appetizers. We keep the experience fresh and exciting by weekly curating the menu and selections at Chef Chad Johnson's culinary discretion. Just remember: the menu may change, but the prices will stay the same. Isn't it time you elevated your Tampa Happy Hour expectations?
Spa Evangeline's February "Love Story" Specials
Romance Ritual: Unwind together, with a side-by-side 60-minute couple's massage, including an exfoliating lime-blossom, swoon-worthy foot treatment.
Love You From Head-to-Toe Retreat: Relax together for a two-hour romance ritual, which includes a 60-minute couple's massage and delicious bourbon chocolate pedicures.
Hearts for HydraFacial: The newest advancement in non-laser skin resurfacing. Get more beautiful and radiant looking skin with a results-driven 30-minute facial.
Self-Love: Treat yourself with a full day of relaxation. Experience a 60-minute Massage, Bask in the Garden Manicure and Pedicure, followed by a 50-minute ELEMIS Pro-Collagen Facial.
For the Love of Friends: Gather your bestie for a two-hour pampering ritual! Enjoy a 60-minute side-by-side Swedish aromatherapy massage that finishes with a refreshing citrus-grass sea salt scrub, known as the Bask in the Garden pedicure.
More upcoming events you won't want to miss …
Tuesday, Feb. 28, (7-9 p.m.)
CENA: An Italian Cuisine
Chef Michael Buttacavoli's restaurant, Cena is a popular and modern restaurant located in the Grand Central building at the heart of the vibrant Channel District in Tampa. The word Cena, means "dinner" or "supper" in Italian. Join us in the Epicurean Theatre as Chef Michael prepares three fresh and simple Italian dishes that are sure to Awaken Appetites Unknown. Tickets are $65 per person, and can be purchased here.