Five Foodie Gifts From The Epicurean Hotel
We all know one, at least two, OK maybe more "foodies" in our life. Their kitchens are already stocked with the latest and greatest gadgets and appliances, they've been to all the hottest restaurants and they are absolutely impossible to buy for; until now.
We've got five unique gift ideas for every foodie in your life and they are all located under one roof … at the Epicurean Hotel, of course!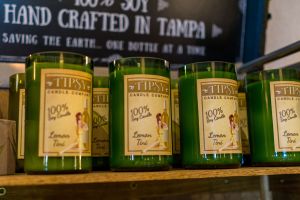 Tipsy Candles: These hand-crafted soy-wax candles are exclusively created for the Epicurean and are locally made using recycled wine bottles from the Epicurean and Bern's Steak House. Sold in the hotel and at Spa Evangeline, these one-of-a-kind gifts smell incredible and make beautiful additions to any foodie's household. Read more about Tipsy Candle here. Prices vary based on size. Approx $30-$80.
Cork Wreaths: These beauties are back by popular demand — authentic and hand-crafted with wine and champagne corks. Wine lovers will rejoice with this rare gift. They've been flying off the shelves while serving as the Epicurean's iconic front desk backdrop. Hurry, these always sell out fast! Approx $35-$300
Wine: Making spirits bright over the holidays, Bern's Fine Wines & Spirits, located in the Epicurean Hotel, is the premier destination for any wine lover. Stop by and chat with one of our highly-educated and trustworthy sommeliers who will guide you in the right direction to satisfy any premier palate. Is your foodie on the nice list? Upgrade your wine purchase to include distinctive Epicurean wine glasses and other various wine accessories while you're there!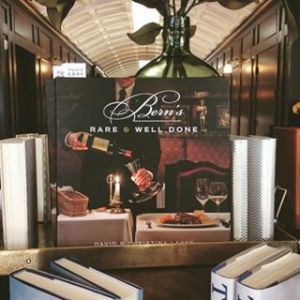 Bern's Rare & Well Done Book: The first collectible book by Bern's Steak House, David (son of Bern Laxer) and Christine Laxer delve into the history of Bern's Steak House. Tampa's quintessential restaurant with both a national and international reputation. Get an up-close-and-personal look at family photographs that show the evolution of Bern's in the 1950's to what has now expanded into three restaurants, a 137-room hotel, and one of the largest private wine collections in the world. Cost $49
Epicurean Hotel Gift Card: An Epicurean gift card can be used for more than just hotel stays. Transfers the decision-making to the recipient, who can also use your gift at EDGE Social Drinkery, Élevage Restaurant and Spa Evangeline.Or, give the gift of culinary education (every foodies dream) with an Epicurean Theatre gift card. Purchase and Epicurean Theatre gift card or check out the class schedule here.
Time is ticking! Visit the Epicurean Hotel front desk today to check all these items off your shopping list.
Awaken Appetites Unknown over the Holidays, and beyond at the Epicurean Hotel.
Insider Tip:
 Now through January 15, 2016: For every $100 spent on an Epicurean gift card, a $25 bonus Spa Evangeline gift certificate for serv
ic
es and nourishing treatments awaits!