Five Reasons You Don't Want to Miss February's Cupcakes & Cocktails: I Heart Chocolate!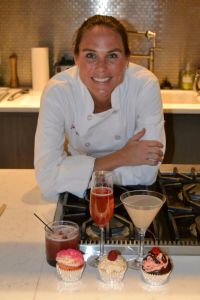 She's back; just in time for the season of love! Chef Beth of Cloud 9 Confections returns this month for a special Cupcakes & Cocktails on Wednesday, February 22 from 7-9 p.m.
This Valentine's Day baking class is sure to be a tasty treat for any sweet tooth!  Here's why you don't want to miss February's Cupcakes & Cocktails Class in the Epicurean Theatre.
Guaranteed to be the most chocolatey class yet:Chocolate has easily become one of the most popular food types and flavors in the world — and also right up there for most popular Valentine's Day gifts. When we say this will be our most chocolatey class yet; we mean it! From classic chocolate cake, to chocolate rum cake to dark chocolate cake—the cupcakes and the paired cocktails will be the most delicious to date.
Cupid's cocktails are included: Each of the three cupcakes you learn to make and decorate will be paired luxurious cocktail shaken up by Cupid's favorite bartender. You'll even get to keep them (the recipes — not cupid!), which will make you the most popular person at your next dinner party.
Cupcakes to share (if you'd like): At every Cupcakes & Cocktails class, you get to take home six cupcakes that are artfully decorated by you … for you!
This month's featured cupcakes include:
Chocolate Overload: chocolate cake, chocolate chips, chocolate mousse filling, chocolate buttercream
Chocolate Rum: chocolate rum cake, chocolate cream cheese frosting

Chocolate Cherry: dark chocolate cake, maraschino cherries, Bailey's chocolate cherry buttercream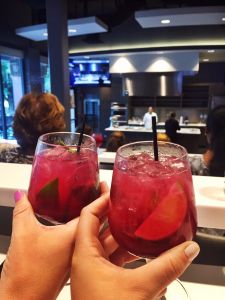 And remember … taste-testing these delicious cupcakes during the class is highly encouraged.
Recipes are yours to keep: One of my favorite things about Cupcakes & Cocktails is that Chef Beth always passes out the recipes for the cupcakes (and the cocktails!) you make in class. They are yours to keep; so feel free to scribble tips, tricks and other helpful hints along the way.
A class worth celebrating: Whether you're celebrating with your best girlfriends or that special someone … or if you just really love chocolate — this is a fun twist to an ordinary night out in SoHo. Did I mention this also makes a great Valentine's Day gift?!
Hurry! Tickets sell out fast! Tickets are $65 per person and can be purchased on the Epicurean Theatre website here.