Florida Strawberry Mojito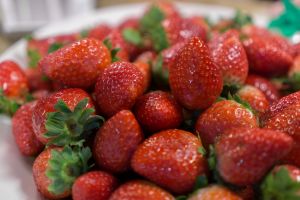 In celebration of Florida Strawberry Month in January, we've been featuring special recipes featuring our fresh and local, Florida Strawberries. Florida Strawberries are in the peak of their season conveniently following their motto, "A taste of summer all winter long!" Though it's cold and dreary in many parts of the country, February is fabulous in Florida where strawberry growers are harvesting their winter crop and shipping hand-picked fruits to key markets all around the world. Lucky for us, our strawberry farmers are right down the road in Plant City, FL, which is also known as the "Winter Strawberry Capital of the World!" To support our local community, the Epicurean Hotel's outlets are striving to include Florida strawberries in cocktails, menu items and even spa treatments.
One of my favorites? His Florida Strawberry Mojito! Here's the scoop on how to create this simple handcrafted cocktail at home using only four basic ingredients.
Florida Strawberry Mojito
Ingredients:
1 ½ oz. White Rum
¾ oz. Strawberry Syrup (Created from Florida Strawberries of course!)
¾ oz. Fresh Lime Juice
6-8 Mint Leaves
Directions:
Combine all ingredients in a shaker tin
Add in ice and shake
Double strain mixture into a rocks glass
Garnish with fresh mint
Enjoy!
Stay tuned for more ways to Awaken Appetites Unknown at the Epicurean Hotel.