Give Thanks for Cupcakes
As Thanksgiving approaches, we reflect on some of the things we are grateful for. We can't speak for everyone, but here at the Epicurean, we are grateful for cupcakes, cocktails and Chef Beth Lukens who instills her cupcakery knowledge upon us.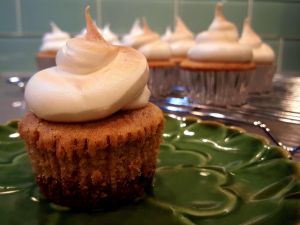 Everyone's favorite Epicurean Theatre class, Cupcakes & Cocktails, is back, only this time with a turkey day twist. Join us on Monday, November 13th in the Epicurean Theatre for Cupcakes & Cocktails: Give Thanks for Cupcakes! Learn to whip up modern takes on Thanksgiving dessert classics. Chef Beth from Cloud Nine Confections will lead the class as you bake, frost and take home six mouthwatering cupcakes. These new recipes can be put to good use just in time for Thanksgiving. In a world full of pies, be a cupcake.
We know all that baking can be taxing. Thankfully, the bartenders from EDGE will be whipping up delicious cocktails to compliment these fall-inspired treats. What could be better than freshly baked cupcakes and exceptionally crafted libations? We can't think of anything either. Check out the menu below!
Sweet Potato Pie
sweet potato cake, rumchata, brown sugar pecan crust, toasted marshmallow
Maple Pecan
maple pecan cake, Jack Daniels Honey whiskey, butter pecan buttercream
Hard Apple
hard cider cake, cinnamon buttercream
Tickets are going fast, secure your spot today!