Glenlivet Scotch Tasting With Alex Thaler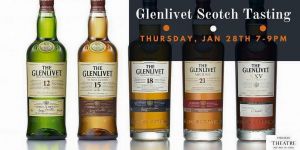 Alright scotch lovers; where are you?The Epicurean Theatre is hosting the very first Single Malt Social Club tasting event and you're invited! Next Thursday, January 28, from 7 p.m.-9 p.m. join Alex Thaler, Multicultural Scotch Brand Ambassador, for a two-hour Single Malt Scotch tasting.
The social club will consist of three different single malts, all selected by different aging techniques (Aberlour 12, The Glenlivit Nadurra First Fill Selection and Aberlour A 'bunadh). That's not all, my friends! Alex will also cover Master Distiller's artistry in barrel selection (Aberlour 18, The Glenlivet Nadurra Oloroso Aged, The Glenlivet 18-year old).
To level off your scotch tasting, Élevage will prepare a specially-paired cheese and charcuterie tasting plate you're guaranteed to love!
So, who is Alex Thaler? 
I'm glad you asked. I'll tell you a few things I know about him to peek your curiosity. To understand the full story, you'll have to attend the event and ask him yourself. Alex was not always a Multicultural Scotch Ambassador, he had a unique job: a car salesman. He's been a hot-shot bartender in the Big Apple like the Gansevoort Hotel and Mondrian SoHo and an active filmmaker (ask him about his adrenaline-pumping GoPro videos) and an actor. He enjoys everything from Salsa dancing to Spartan Races. Even if you're not a full-blown scotch enthusiast (yet), I guarantee his class will be downright entertaining!
Whether you're a novice first-time scotch drinker or a real Peat Head, you'll enjoy this exclusive tasting event. Tickets are $50 per person and can be purchased online at www.EpicureanTheatre.com.