Martini Madness at Élevage
Once upon a time…in a Cajun land (not that) far away called New Orleans, Chef Chad Johnson and Chef de Cuisine Jon Atanacio roamed the cobblestone streets of the French Quarter. For days and days, they searched for the finest (and cheapest) libations that New Orleans had to offer. As their hopes began to fade and their words began to slur, they spotted a landmark they could not believe! They rubbed their eyes in disbelief. They had found the white rhino of libations, the El Dorado of cocktails; the 50 cent martini!
What do you get when you combine the 1950's mantra of day drinking and the sauced up discovery of martinis for under a dollar?
 50 Cent Martini Lunches at Élevage!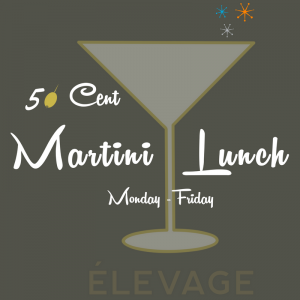 Lunchtime in Tampa just got a lot more exciting. Purchase a lunch entrée and you too can drink martinis for just 50 cents.
Let me put this in perspective; for the price of one glass of wine you could gulp down 14 martinis (do not try to drink 14 martinis, please). Whether you like it dirty or dry, there is a martini for every taste bud. Escape from a hectic day at work or entertain clients with the finest of spirits and an exquisite lunch menu to match.
Mid-day martinis will be available Monday through Friday in Élevage from 11 am to 3 pm. Join us for the best lunch in Tampa!
Day drinking. Donald Draper approved.
Check out the Élevage lunch menu here and make a reservation today!