Meet Bonnie, 2014's Pumpkin Fight Winner!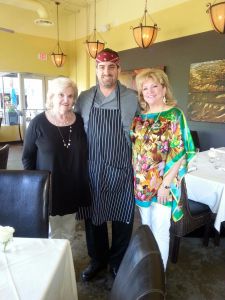 During lunch, Bonnie had the pleasure of meeting the Epicurean's executive chef, Chad Johnson, who told her about the Pumpkin Fight benefiting Feeding Tampa Bay. Bonnie and her friend decided to check it out, since it was for a good cause and sounded fun. She came back later that night with her $5 and voted on her favorite pumpkin carving. The next day Bonnie received a call from the Epicurean Hotel letting her know that she was the Grand Prize winner of 13 local restaurant gift certificates, with dinner for two at each. She couldn't believe it! She called up her best friend Lucy, and they have been on many unforgettable dining experiences over the past year.  The duo have demonstrated their excitement and appreciation by taking a photo with the Chef from each restaurant to document their journey.
I had the chance to catch up with Bonnie and her friend Lucy, who have both been busy enjoying dining at some of Tampa Bay's top restaurants, to check in to see what their experiences have been like, and what they enjoyed most about the Pumpkin Fight competition.
Kat: As the Epicurean's 2014 Pumpkin Fight Winner, what was your experience like dining at so many restaurants?
Bonnie: It was so wonderful! We had a nice time at each of them. Tampa Bay has the best variety when it comes to cuisine. I lived in Europe for many years, and Tampa not only mimics that unique fine dining experience, but the chefs are so talented and comparable. We can't wait to enter again this year! Our favorite restaurants we visited were Bern's Steak House and the Pearl in the Grove.
Kat: What made the Epicurean Hotel's Pumpkin Fight so unique?
Bonnie: The chefs were all so creative. These pumpkin carvings aren't your standard pumpkins you see out and about, they are all so unique and different – like works of art! There is so much detail and time put into each pumpkin. My favorites were where they carved the hard skin off the front and filled the backside with lights to shine through. Everyone must see these amazing displays showcasing our local culinary talent!
Kat: The Pumpkin Fight ultimately benefits the local charity, Feeding Tampa Bay. Why do you think it is important for us to champion this cause?
Bonnie: If there's one thing I've learned it's that people in the restaurant and hospitality industry are very passionate and caring people. We all know that food is a basic need, and food instability is a serious problem. There is a staggering number of people who don't know where their next meal is coming from, many of whom are children.  The chefs are keenly aware of this and are passionate about feeding our neighbors and friends in need. Our local food bank serves 10 counties on the west coast of Florida and focuses on providing food to 700,000 hungry. They do amazing work!
Kat: We look forward to welcoming you back again this year and wish you luck! In the spirit of all things "pumpkin," what's your favorite pumpkin dish?
Bonnie: Thanks, we can't wait to come back again this year and check out the competition! As far as pumpkin recipes go, that's a tough question, but I have a few.  Pumpkin Bread is one of my favorites, but then there's Pumpkin Pudding, which is like a sweet potato pudding and it's delicious!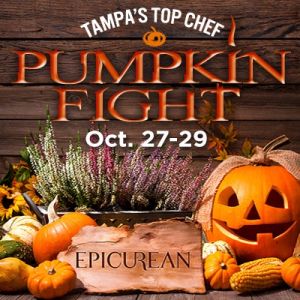 This year, Pumpkin Fight has expanded to 23 restaurants. Can you imagine winning 23 dinners for two at the best restaurants in Tampa Bay?  That will easily cover all your "date nights" for a year! Not only that, but Bank of America will be TRIPLING the donations collected. Per Feeding Tampa Bay, $1 equates to 10 meals.  If the Epicurean raises $1,000, that will provide 30,000 meals for our neighbors who are food insecure.
So be sure and mark your calendar!  WillBella's Italian Cafe take home the trophy again this year?  There are 22 other chefs who will be gunning for them!  Please plan to visit and participate in the Epicurean Hotel's 2015 Pumpkin Fight, October 28, 29 and 30. We'll be announcing this year's winner, as well as the winning restaurant, at Monster Splash on the evening of October 30 at the Epicurean, 8 p.m.-midnight.