Meet Epicurean's Newest Special Events Coordinator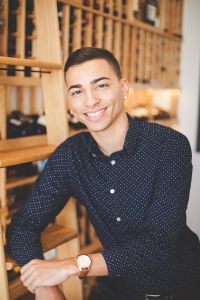 Meet the man of the hour and Epicurean's newest special events coordinator, Jimmy Teixeira. You can find him running around the Epicurean in a perfectly manicured outfit orchestrating special events ranging from Cupcakes & Cocktail baking classes to SPLASH Sunday pool parties. Jimmy is responsible for booking all of Epicurean's alternative meeting spaces which include the Epicurean Theatre, Meritage Private Dining Room, EDGE Social Drinkery and Epicurean Pool. In just two short years Jimmy has earned himself a promotion and outstanding reputation. He is sure to put a smile on everyone's face who he comes across. We invite you to get to know our new special events coordinator.
Where did you grow up?
I grew up in New Port Richey, FL. I was there for about 18 years until it was time to head to college. I attended University of Central Florida and graduated with my BA in hospitality.
Where was your first job?
Winn-Dixie, I started 2 weeks after my 14th birthday as a bagger. I worked there for 5 years until I graduated high school.
When did you start at Epicurean?
August 20th, 2016, three years this upcoming August!
What makes you hop out of bed every day?
My two fur-babies that I have! Neiman and Asher. They are Goberains (Golden Retriever mixed with Siberian Husky). They are like my kids! I want to be able to provide them a big house with a big back yard to play in everyday!
So, I'm planning a little celebration, and I'm looking for an interesting venue… any ideas?
YES.  Plenty.  Let's talk!
[email protected] | 813-999-8702