New EDGE menu at Epicurean's Rooftop Bar Launches Impressive Cocktail Lineup
EDGE Social Drinkery launches their newest rooftop bar menu featuring new crafted cocktails, boutique spirits, wine and craft beers.
Since my last feature on EDGE's new cocktail menu, we've added a few additional cocktails on the list. A few favorites worth mentioning are the Dark and Stormy, Clover Club, Satenta y Cinco and the Kings Truce.
The Dark and Stormy features Cruzan black strap rum, and Regatta ginger beer. It's just as simple and easy as you think it is, but oh-so delicious.
The Clover Club is a classic that's fresh and refreshing especially while sipping it on Tampa's best rooftop bar. This drink features Hendricks's gin, St. George raspberry liqueur, fresh lemon juice, egg whites and a little simple syrup.
The Satenta Y Cinco is a playful Spanish delight featuring French 75, Mahon gin, cava sparkling wine and fresh lemon juice. It pairs perfectly with the Duck Confit Lettuce Wraps, or the Macaron Plate — for those craving something sweet.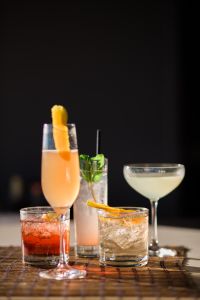 Our new EDGE cocktail menu may switch it up a bit, but one thing remains the same — Epicurean's rooftop bar is recognized by Tampa locals for being a sophisticated hot spot.
Make EDGE your date night destination, or stop by for a night cap. Whether it's before or after dinner at Élevage (or big daddy Bern's Steak House), you'll see why Tampa's first craft cocktail rooftop bar is the perfect mix of edgy, laid-back and cultivated.
Check out the new EDGE Social Drinkery cocktail menuhere.