Picnic in the Park: Slow Ride Event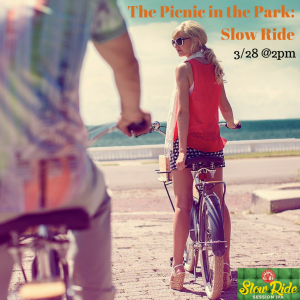 Grab your gingham! We've planned a picnic that involves craft beer and you're invited. Join us on Saturday, March 28th, at 2 p.m. at the Epicurean Hotel for the "Picnic in the Park: Slow Ride Event."
The day will commence in the Epicurean Theatre where Chef Max Sherard will lead a picnic prep class and help assemble your picnic basket with all your outing essentials. The recipe roundup includes the famous Élevage Cold Fried Chicken with Bacon & Truffle Potato Salad, Vinegar Slaw, Bandaged Cheddar Cheese, and a Macadamia Blondie (seriously, you were crazy if you thought we were going to leave out dessert).
After the picnic prep, we'll hop on the bikes and cruise down Bayshore Boulevard on bikes provided by Coast Bike Share (which will be staged and ready for RSVP'd Attendees at the Epicurean Hotel) to The Riverwalk, stopping at Curtis Hixon Waterfront Park for a delightful picnic in downtown Tampa.
After a lovely lunch, we'll hop back on the bikes for a slow ride across town to the Epicurean Hotel for the New Belgium Rooftop tasting at EDGE Social Drinkery, featuring Slow Ride Session IPA, an exquisite blend of eight hop varieties, led by exotic Mosaic and Nelson Sauvin, twist together brilliant tropical scents of melon, peach, lime and grapefruit for a vividly fruity aroma. The flavor mirrors the aroma, while balancing a malty-sweet yet clean start and hoppy bitterness in the back. Light bodied and extra quaffable, this sessionable India Pale Ale brings the finish line to you. Are you thirsty yet? Because, I am!
The cost is $50 and you can reserve your spot by purchasing your ticket online by visiting: http://www.epicureantheatre.com/ Hurry! Spots are filling up fast!
Awaken Appetites Unknown at the Epicurean Hotel.