Ready, Set, Veuve Clicquot!
Brunch at Élevage just got a little boozier! Champange lovers raise your hand. Now raise your glass, because the crème de le crème of champagne will be offered on Saturday and Sunday at Élevage. Starting this Saturday, September 2nd, Veuve Clicquot yellow label will be offered for just $10 a glass during brunch. Are your taste buds tingling, too?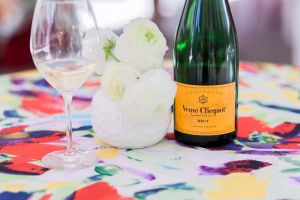 Yellow label Veuve Clicquot features grapes from 50 to 60 different crus blended together for a world renown champagne. The taste can be described as "robust acidity and a streak of minerality, this offers subtle notes of white peach, anise, biscuit and kumquat. The refined finish echoes a smoky note." Add some luxury to your weekend with a glass (or 4) of Veuve Clicquot.
The brunch scene in Tampa can be a bit overwhelming at times; often hangry weekend warriors are plagued with a no reservation policy and hour wait times. Enter Élevage brunch; something different, something elevated. Looking to taste all the colors of the (Epicurean) rainbow? Indulge in the three course brunch "Brunch Like Bacchus" with three options per course to choose from!  Or, our sophisticated a la carte menu is sprinkled with southern staples and new takes on old favorites. Check out Élevage's brunch menu.
Let's be honest, one of the best aspects of brunch in Tampa is the booze. Not only does Élevage serve one of the most recognized champagnes in the world, they also offer bottomless mimosas, Bellini's AND Bloody Mary's for just $15. What's better than getting toasted while filling your belly with delicious brunch entrees in a breathtaking setting? We'll wait.