Ribs, Ribs, Ribs! With Just Grillin

From novice chefs to BBQ enthusiasts (and even professionals) this week's "Ribs, Ribs, Ribs!" class inside the Epicurean Theatre with Doug Driscoll, owner and pit master of Tampa's Just Grillin, will be a class you don't want to miss!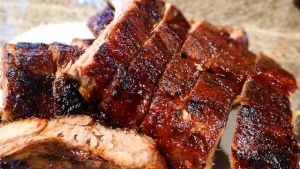 Our last class with Doug was such a success, he decided to return again this time he's excited to teach you how to wow your guests with cooking ribs two ways. Low and slow, on the Big Green Egg and the home-style method straight from the oven. If you're looking to really impress your friends or interested in hosting a backyard BBQ that will be talked about for years to come, this is the class for you.
The menu will include Dry Rub Ribs, Smoked Ribs, BBQ Sauces, Hassleback Potatoes and all will be be delightfully paired with beer and wine for your tasting pleasure.
"Ribs, Ribs, Ribs!" will take place in the Epicurean Theatre on Thursday, February 4, (7 p.m.-9 p.m.) Tickets are limited and cost $55 per person. To purchase your ticket today, please visit:  www.EpicureanTheatre.com.