Shark Toof: Live at EDGE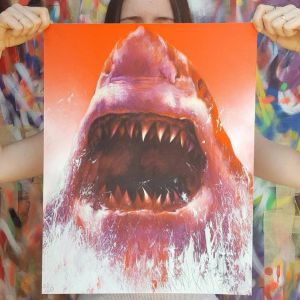 Take a bite out of the next big thing coming to EDGE Social Drinkery: live mural painting events in partnership with CASS Contemporary! Watch and relish, with a handcrafted drink in hand, as world-renowned artist Shark Toof uses EDGE as his canvas this Wednesday, October 26, from 7 to 9 pm.
Best known internationally for his iconic wheat paste image of a hand-drawn shark with TOOF in the mouth, Shark Toof is a must-see, must-experience graffiti artist—especially live. Although sharks are symbolically scary, Shark Toof transforms his predator and gives the viewers an image of "strength, optimism and possibility". His passion behind these predators? Raising awareness for the plight of sharks and the common representation of the animal most-demonized as man-eaters and ruthless killers. His art provides an incredible and interactive platform for open dialogue with the public and displays how passionate he is about saving his beloved predator.
In his words, his shark icon is "a voice of rebellion, a conduit for the unheard, and an homage to graffiti art." With roots deep in graffiti and an education from Art Center, Shark Toof possesses the technical skills of an Old Master and the spirit of an art-minded vandal, granting him the ability to move seamlessly between styles. I urge you to explore Shark Toof's website here to find out more about his globally recognized and collected works. And if one night is not enough, you're invited to attend Shark Toof's solo show, Red Everything, opening at CASS on Friday, November 4th at 7 pm.
Ready to Awaken Appetites Unknown? Guests and locals are welcomed to enjoy this jawesomely free event on the rooftop of Epicurean Hotel, which is now open 7 days a week. After completion, the mural will be auctioned off through an online silent auction.