Sharpen Your Knives! Epicurean Presents: The Epic Chef Showdown

Starting Monday, July 27 the knives will come out and the gloves will come off, for the most Epic Chef Showdownin Tampa Bay history! The Epicurean Hotel and Feeding America Tampa Bay are partnering together, along with eight local restaurants, for a fierce competition that will help fight hunger in our Tampa Bay community.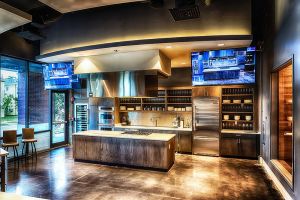 In similar fashion to many chef competitions you see on TV, the Epic Chef Showdown will match up the top culinary pros from eight of the best restaurants Tampa Bay has to offer. In each round, the two competing chefs will receive a mystery box of challenging ingredients that are not commonly prepared together. Both chefs must use their quick-thinking culinary skills to create two dishes that are unique, aesthetically pleasing and of course delicious, all under the pressure of a timed clock. When time is up and the buzzer has sounded, the chefs will present their culinary creations to the judges to be critiqued and scored. After each round, one of the chefs will be eliminated, and the winning chef moves on to the next round. The finale event will be on Monday, September 14 in the 40-seat, fully equipped Viking culinary classroom known as the Epicurean Theatre.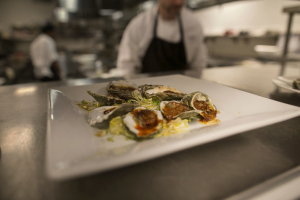 While this competition may be fierce and exciting for our local restaurants and foodies, it wasn't the main reason the Epicurean produced this challenge. The Epic Chef Showdown was created to bring our community together to not only enjoy the camaraderie and cuisine from the best chefs in the bay, but also take part in something much larger that is happening around us every single day. Hunger is a very serious and severe issue in our area — affecting one in seven adults and one in four children. You most likely interact with someone that is fighting hunger daily and not even know it. These are our neighbors, coworkers, veterans and friends. And they need our help.
Tickets are limited to the Epic Chef Showdown events, but you can visit www.EpicureanTheatre.com/events for all the updated details. If you do decide to join us to celebrate some of the finest Bay area restaurants, you'll also be supporting strategic partnerships, while raising funds and awareness to help a community in need.
Epic Chef Showdown Event Dates:
Week 1 – Monday, July 27: Cena vs. Parkshore Grill
Week 2 – Monday, August 3: Mise en Place vs. The Pearl in the Grove
Week 3 – Monday, August 10: Rooster & the Till vs. Z Grille
Week 4 – Monday, August 17: The Refinery vs. Fodder & Shine
Week 5 – Monday, August 24: Week 1 Winner vs. Week 2 Winner – (Winner goes to Finals)
Week 6 – Monday, August 31: Week 3 Winner vs. Week 4 Winner – (Winner goes to Finals)
The Final Epic Chef Showdown will be Monday, September 14
Meet Our Judges
Whitney Miller (Standing Judge)
David Morris (Standing Judge)
Simon Majumdar (Celebrity Guest Judge – Finale Event Only)
Emily Ellyn (Celebrity Guest Co-host – Finale Event Only)
Insider's Tip: Each week there will be a featured "guest" judge just to spice things up!  So be sure and consult the schedule.
Special Thanks to the Generous Sponsors:
Florida Blue – Title Sponsor
Creative Loafing, Viking, Shun Cutlery, Jackson Family Wines, Premier Beverage, Harvard ▪ Jolly Architecture, Bern's Fine Wines & Spirits