Sipin' and Supin' with Retro Rad Chef Emily Ellyn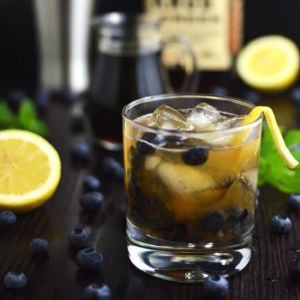 Florida Blueberry Month continues with a special evening featuring Retro Rad Chef Emily Ellyn, as she demonstrates her modern remix on everyone's favorite easy-to-make meal—tacos! We bet you can't guess the featured ingredients… Her recipes will feature a duo of ingredients that are not typically found in tacos: bourbon and blueberries!
You may remember Chef and culinary educator Emily Ellyn from previous Epicurean Theatre classes. But, she's best known as the Retro Rad Chef that rocks super-stylish cat-eyed glasses on Food Network. She's made special appearances on "Food Network Star," "Cupcake Wars," and most recently she was the champion of "Cutthroat Kitchen."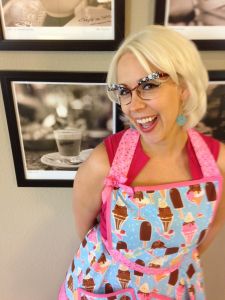 What makes her the Retro Rad Chef? Emily is all about taking something retro, remixing it and making it RAD! She encourages everyone to dig through their mother's recipe box, dust off their pressure cookers, and take the old and make it new again. If you're looking to remix your weekly routine, and enjoy a different take on tacos — this is the class for you.
How will the Retro Rad Chef take two signature ingredients bourbon and blueberries and mix it up? I'm glad you asked.
You'll start with Bourbon Spiked Shrimp and Scallop Ceviche with Blueberries and Fresh Mango, paired with a special Bourbon Welcome Cocktail. Next, you'll sink your teeth into Bourbon Glazed Beef Tacos topped with Blueberry Corn Salsa and Cilantro Cream Sauce. While your wildest taco dreams are coming true, you'll enjoy a bourbon tasting by Michael J. Ring, CSS Brown-Forman Whiskey Brand Champion. For the finale, a Southern Blueberry Shortcake paired with a Sweet Bourbon Libation. Sounds RAD right? We think so!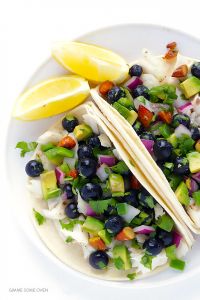 If you're looking to mix up your normal weekly dinner routine, this class is for you! The class is Wednesday, April 20, from 7-9 p.m. in the Epicurean Theatre. Tickets are $65 per person and can be purchased at www.EpicureanTheatre. Hurry and book your front row seat to Awaken Appetites Unknown before all the spots are sold out!
All blueberries are local Florida blueberries provided by Wish Farms.
"What do you get when you mix down-home values with quirky up-town flair and a solid culinary education? A deliciously unique cooking personality!" ~ Retro RadChef Emily Ellyn