Southern Cooking Queen — Whitney Miller is Back!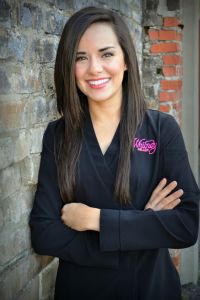 Whitney Miller is no stranger to the Epicurean Theatre or the spotlight. This southern belle visited the Epicurean Theatre earlier this year and produced an amazing cooking class! She was also crowned the champion of Season 22of MasterChef. For those of you that don't know, Whitney has southern roots, as well as international culinary experience. All of her home-cooked recipes are exciting, accessible and "company-worthy."
Earlier this year, before her class at the Epicurean Theatre, I had the chance to catch up with Whitney and if you missed the fun Q&A you can find it here.
In the interview we chatted about her upcoming book,Whitney Miller's New Southern Table, and she was still in the process of crafting up recipes for it. Well, the time has come for Whitney to debut her new cookbook, and everyone is invited for an exclusive first peek!
 Some of the southern samples will include:
Campfire S'Mores Scones
Meatloaf Po' Boy
Cinnamon and Spice Sweet Potato Tots
Roasted Brussels Sprouts with Apple Butter, Green Apple and Candied Pecans
Collard Greens Wrapped Pork Loin
Sweet Corn Grit Tamales with Barbecue Shrimp and Corn Salad
White Chocolate Bread Pudding Beignets
About Chef Whitney Miller: She is best known for being the winner of MasterChef, but she has been featured across the globe in southern cuisine cooking promotions and as a judge in food competitions including the 2013 World Food Championship. Her recipes and articles have appeared in People, Women's Health, MasterChef, Clean Eating, and Cooking Light magazines, and her cooking demonstrations have been featured in the MasterChef app. We're particularly fans of Whitney as she participated as a celebrity judge for the Epic Chef Showdown, which was staged at the Epicurean and benefited Feeding Tampa Bay!
"Whitney Miller has brought southern cuisine to life in her second cookbook,Whitney Miller's New Southern Table. She keeps it simple for the home cook with approachable recipes that embody the true hospitality of a southern family." —  Emeril Lagasse