Southern Cuisine Cooking Queen, Whitney Miller: Part One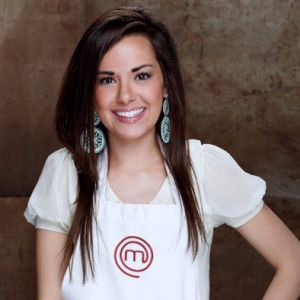 Back by popular demand, Whitney Miller returned to the Epicurean Theatre for a second class that featured a few of her favorite spring recipes along with a three-course live demonstration. The menu featured three items from her MasterChef cookbook, Modern Hospitality: Simple Recipes with Southern Charm.
The items included; Southern Layered Salad, Inside-Out Chicken Pot Pies, and Semi-Frozen Lime Pie with Graham Brittle Crust.
You may remember Whitney Miller from the first season of MasterChef in 2010. She blew the judges away with her sweet shrimp on crispy bread with black-eyed pea purée for the appetizer, country fried chicken for the entrée, and a white chocolate bread pudding for the dessert. Being awarded a quarter of a million dollars, a personalized cookbook and the prestigious MasterChef trophy was only the beginning for Whitney Miller.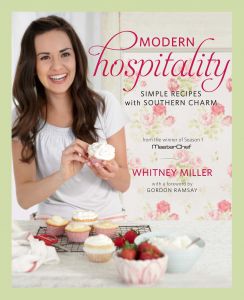 We had so many wonderful reviews from everyone who took her class at the Epicurean Theatre on April 10th, I thought it would be great to learn more about this southern cuisine cooking queen. She isn't your average chef; she has her own twist to everything. Whitney is reinventing the way people cook in the kitchen. We split this interview up in a few pieces, so this is part one. You will have to come back next week for part two.
KL: After winning MasterChef in 2010 you released your first cookbook: Modern Hospitality: Simple Recipes with Southern Charm. Tell us a little bit about this cookbook and the kind of recipes you featured.
WM: I was very involved in writing the content in the cookbook and all of my award-wining recipes from the show were featured. There are 75 total recipes I have adapted from my great grandmother's cooking. I have taken those southern recipes and added my own fresh twist to all of them. For example, the traditional Chicken Pot Pie uses canned vegetables. I found a new and healthier way, by using fresh vegetables and creating a roux. Also, instead of a pie crust or a biscuit, I make it upside down using a puff pastry bowl. It makes for a lighter texture. It is delicious and it isn't as heavy as the original recipe. This was one of the favorites during the Epicurean Theatre class!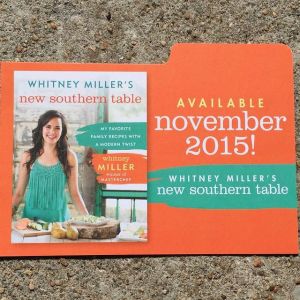 KL: Rumor is you have another cookbook coming out in November. What is the theme and some of the recipes you will be featuring in it?
WM: It will be called Whitney Miller's New Southern Table. It will feature the kind of southern food I grew up eating and cooking. Each recipe will have my own modern spin on it. Some of the recipes in the cookbook were family recipes passed down to me from 100 years ago.
I also love to travel. In one year, I traveled to four different countries. I know how intimidating it can be for southern cooks to attempt Asian cuisine in their kitchen. Each recipe will feature southern ingredients and common things they can find in their kitchen cabinets or at their local grocery store. There won't be any ingredients they have to go to an oriental market to find. I want to make it as simple and relatable for every audience, yet still flavorful and delicious. Plus, it is always fun for the entire family and for yourself to try something different in the kitchen!
Stay tuned and Awaken Appetites Unknown in the Epicurean Theatre with Whitney Miller.
We will be back next week with Part Two…