Spotlight on Mainsail Lodging & Development's Marketing Manager, Kelly Stafford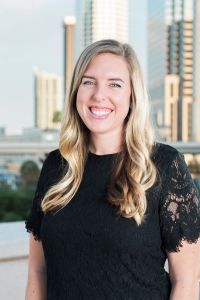 Her creativity shines brighter than her smile, meet Mainsail Lodging & Development's Marketing Manager, Kelly Stafford. Starting as an opening team member at the Epicurean Hotel, Kelly has been committed to the Mainsail Lodging & Development team for many years. Her hotel experience paired with creative marketing makes her the perfect person to tell each hotel brand's unique story.
We sat down with Kelly to get the scoop on where she started, and some of her favorite moments that come with the job.
Q. Tell us a little about your background and experience?
Kelly: "I graduated from Florida Gulf Coast University with a bachelor's degree in Resort & Hospitality Management. During my last semester of school, I received an offer to become a Sales Coordinator with Hyatt Place Coconut Point, after finishing my internship as a Front Desk Host. I was with Hyatt for three years prior to moving up to Tampa."
Q. What was your first position with Mainsail Lodging & Development?
Kelly: "I was an opening team member for Epicurean Hotel; Front Desk Supervisor."
Q. How and when did you start working with Mainsail Lodging & Development?
Kelly: "A new position for Marketing Coordinator was posted in May 2015, and I begged Norwood for the job. Just kidding… kind of. I was with the front desk team at Epicurean for just over a year and a half, so I was ready for the next step with Mainsail."
Q: What is unique about your newest promotion of Marketing Manager?
Kelly: "As our hotel portfolio is about to double in size, I'll have the opportunity to work with the opening teams to ensure our brand voice is heard through every department. I'm very fortunate to grow simultaneously with our portfolio!"
Q: What is the favorite part of your job?
Kelly: "Where do I begin? Having the opportunity to communicate with each property and many associates on a daily basis is rewarding. I'm a creative person, so generating a pre-opening brand story is a blast."
Q: What are you looking forward to in the New Year?
Kelly: "2017 will be a tremendous year for Mainsail Lodging & Development! We have two hotels opening; Waterline Marina Resort & Beach Club on Anna Maria Island and Fenway Hotel in Dunedin, Florida."
Q: What is your favorite property that Mainsail is are currently working on?
Kelly: "It would have to be the Fenway Hotel; opening in October 2017. The history behind the building itself is so fascinating. It served as the county's first radio station, so we've channeled that piece of the history for our brand story. The Dunedin community has been so welcoming for the project, so it's nice to feel the excitement coming from all angles! Our high-rise hotel in Fort Myers also has a special spot in my heart since I spent my college years in that town. Each of our hotels are extremely unique, so it's tough to pick a favorite."
Q: Tell us a memorable or funny story about the Mainsail and your coworkers.
Kelly: "My dad somehow convinced Norwood, my boss, to pull an April Fools prank on me all the way in the BVI during our trip to Scrub Island. I couldn't get over how it all came together, but I was definitely fooled."
Q: Tell us more about who you are outside of work.
Kelly: "I live in South Tampa with my husband, two rescue dogs and a cat that bites. My favorite hobby at the moment is gardening. The only plant I've successfully kept alive so far is a mum from two years ago. Every other plant that I actually like has died!"
Unlike her unsuccessful attempts at gardening, she's highly successful at hotel marketing and storytelling, and we couldn't imagine the Mainsail Lodging & Development team without her!